What Is the Average Cambodia Trip Cost?
For those who love traveling, Southeast Asia's Cambodia can be a great expedition. Cambodia trip cost won't burn a hole in your pocket if compared like many other countries in the region. However, costs are rising pretty fast these days.
The Cambodia trip cost is increasing with every passing year. Hence, travelers will need to set aside some budget to explore this amazing country. Well, it is always to come prepared to enjoy a comfortable trip to Cambodia.
Whether you're just visiting for a few days or planning a long stay to exploring Cambodia, you need to know the costs and work out a rough travel budget ahead of time.
How Much Money Will You Need for Your Trip to Cambodia?
When it comes to Cambodia trip cost, one should plan to spend around $35 per day. It is the average daily Cambodia trip cost based on the expenses of other tourists. Various travelers in the past have spent ($12), on average, while having meals for one day and $5.28 on transportation to move within the country.
The average hotel price in Cambodia for a couple is $25. So, the Cambodia trip cost for two people for one-week is $493 on average. To help you gauge the Cambodia trip cost, these average prices have been collected from other tourists so that you can easily plan your own travel budget.
From visas to transportation to accommodation, nightlife to food, let's break down the costs of traveling in Cambodia.
Read More: Plan a 2-week Vacation in Cambodia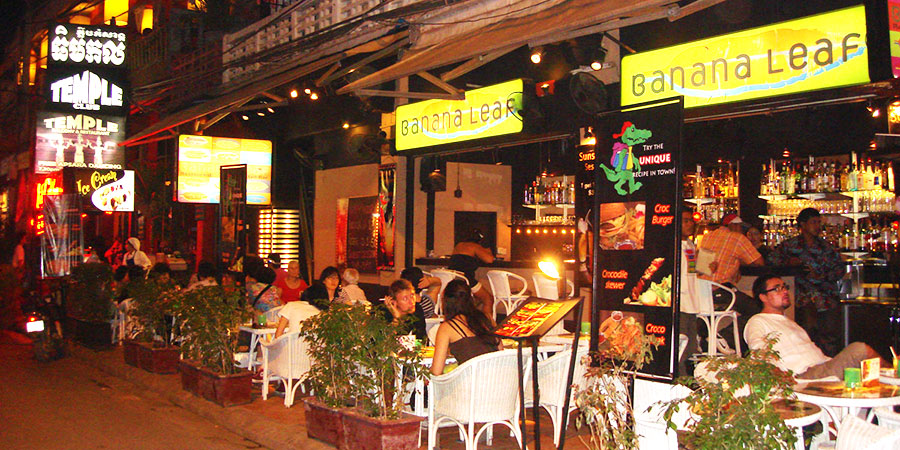 Nightlife in Cambodian Pub Street
Cambodia trip cost for the
visa
is $30 for one month. Want to extend it? You need to pay$35 or more, depending on the duration of your stay. If you are from a western country, then you are eligible to receive a visa on arrival. In fact, there are not many countries must apply for a visa in advance.
A passport-sized photo is required to apply for a visa. There's no need to fright if you arrive without a photograph. It will take just $2 fee to get your photo clicked at the immigration office.
Credit Cards and ATMs in Cambodia
ATM machines are very common in most cities of Cambodia. If you want US dollars, you can get them from these machines. From MasterCard to Visa to Maestro to Cirrus to UnionPay, they accept them all.
Don't worry about ATM fees. It will not be a lot. Paying $4-5 per transaction is the amount that most banks will charge for international cardholders.
It is not that Cambodian ATMs have no downsides. Yes they have one; dispensing large denomination notes. Well, when you withdraw $200 you may like to receive two $100 notes. But, there is a way to avoid this issue. Withdraw money in multiples of $10, like $280. This is nice way to force ATM to provide notes denominations that you like.
You can use credit cards at almost every large as well as mid-sized hotel. Wherever you go, high-end restaurants will accept the payment through credit card. However, if you are going to a small restaurant, it is better to keep cash with you.
Cambodia may be not counted in highly developed countries, but don't be delusional thinking that the Cambodia trip cost will be lower. You will be surprise to learn that it may be even costlier to visit Cambodia than its neighbors, which are of course developed and better economically.
Cambodia Trip Cost Comparison for Accommodation!
From guesthouses to hotels to resorts, Cambodia has a decent amount of accommodation options. Let's check them out:
| | |
| --- | --- |
| 4-star Hotel in Cambodia | Luxury Hotel, Siem Reap |
If you want to a keep Cambodia trip cost low, the first thing you need to do is exploring Cambodia by bus. You need to spend at least $40 for each day of your stay. This budget will suffice your stay in simple hotels and guesthouses. This budget will make you eat a food which will be blend of international and local food. See also
Travel Around Cambodia by Bus
Three to four-star hotels will provide you with a bit more comfortable experience. But, it will cost you a bit more. Set aside a daily budget of at least $75. In this budget, you can get a higher standard of accommodation as well as food and travel around Cambodia by plane.
Looking for a lavish accommodation in the country? You need to be ready to take out $150 from your pocket every day of your stay. This budget is the minimum what you need to staying in luxury hotels and eating in luxurious restaurants.
The Cambodia trip cost for accommodation varies from city to city. You can expect to pay a minimum of $15 for a comfortable room in Siem Reap and Phnom Penh. However, if you can go up to $100, you are in for luxury hotel rooms in either of Cambodia's these two major cities.
Both these cities also have a wonderful selection of comfortable, small, boutique hotels that offer beautiful rooms for $30 to $50 per night.
Read More: Where to Stay in Cambodia - Hotels, Camping or Home Stay
Cost of Activities & Attractions:
Angkor Wat entrance:
• $37 for a 1-day pass
• $62 for a 3-day pass
• $72 for a 7-day pass
See also What to See inside Angkor Wat
| | |
| --- | --- |
| Angkor Wat Entrance | National Museum, Phnom Penh |
$13 for hiring a tuk-tuk all day to visit the temples around Angkor
$2 to enter Killing Fields plus $13 tuk-tuk to get there
$2 entrance fee for Museums in Phnom Penh
See also Tuol Sleng Genocide Museum & National Museum in Phnom Penh
Cambodia is famous for its attractions. So what are you waiting for? Set aside a budget according to the Cambodia trip cost.
Read More: Top 10 Cambodia Tourist Spots