Cambodia Cycling - The Best Way to Explore This Amazing Country
Cambodia, indeed, is a unique and special country. You will not find any other place as unique as Cambodia. It has so much to offer to travelers in terms of natural, historical, and cultural elements. Cambodia is popular among travelers for its geographical diversity and cultural complexity. If you are keen on exploring this exquisite place, then consider Cambodia Cycling. Trust us! It will be the best traveling experience of your life ever.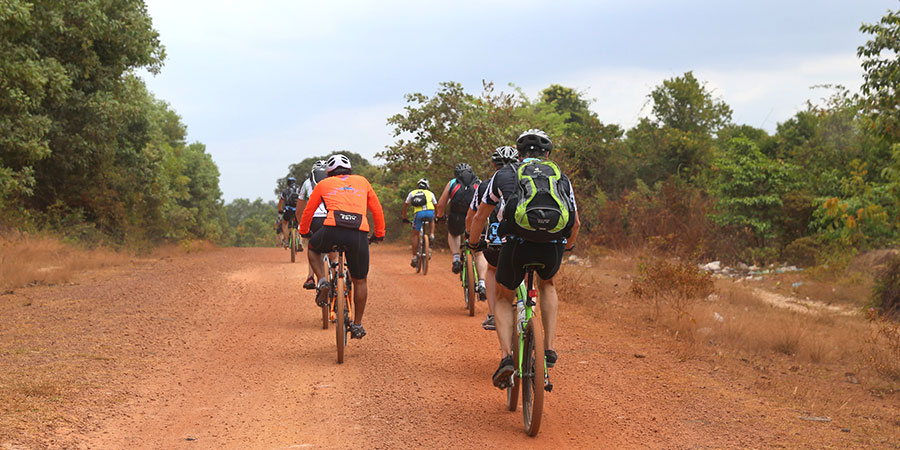 Get a Cycling Tour in Cambodia
Cambodia Cycling: the Why's and How's
Cambodia has always been a hot favorite among the tourists because of its jungle expanse, breath-taking white sand beaches, panoramic countryside, and exquisite temple complexes. And not to forget the bright, smiling faces of the amiable local people! Travelers love to immerse themselves in the beauty of these awe-inspiring remnants of history and scenic beauty of the country.
Because of the picturesque beauty of the country, the concept of Cambodia cycling is getting popular gradually among travelers. Over the past few years, the country has seen an incredible rise in the number of travelers who like to paddle their way through the rice paddies, enjoying the cool breeze. And what's more? You need not worry about parking and the safety of the cycle. You can lock it and move ahead to explore the nearby areas. Cambodia cycling enables a tourist to explore the real side of the country. They can enjoy the landscape from a better perspective. It will be quite an exciting and adventurous experience to explore the country on two wheels.
Read More: 5 Best Beaches & 5 Best Islands in Cambodia
Things to Keep in Mind before Setting out on Cambodia Cycling
It is always better to research well in advance before commencing your journey for a new place. So if you are planning a trip to Cambodia and you intend to explore the breath-taking country on a cycle, then you must keep in mind the below-mentioned points:
Cycle in a Group
The best option is to cycle in a group so that you become more visible in the traffic. It is a good idea to join any Cambodia biking tour organization.
General Precautions
One must always take general precautions. Follow basic traffic rules. Take extra care while traveling as there may be some dangerous areas like landmines. Follow the guidelines of the government regarding the latest traveling restrictions and limitations. Keep updates of the religious ceremonies and cultural events, and make sure that you do not infringe the Cambodian customs and law. This will keep you away from stringent penalties.
Read More: Top 5 Traditional Festivals in Cambodia
Vaccination Requirement
For traveling to Cambodia, you must get particular vaccinations. The official health advisory wants you to take vaccination of Typhoid and Hepatitis B. These vaccinations to ensure your perfect health condition in case you end up having some contaminated food and water in rural areas of Cambodia. Vaccinations of Japanese Encephalitis, Hepatitis B, Malaria, Yellow Fever, Rabies, etc. can also help maintain your perfect health and an uninterrupted Cambodia cycling trip.
Read More: Do You Need Vaccinations for Cambodia Trip?
Visa and Passport
Generally, visa and passport are essential for a trip to Cambodia. But the nationalities of countries like Malaysia, Philippines, Laos, Thailand, Vietnam, Singapore, and Indonesia do not need a visa for Cambodia cycling. They can stay in Cambodia for as long as 30 days without a visa. You will get further information on
E- visa
,
visa-on-arrival
, etc. from the airports of Cambodia.
The Perfect Season to Enjoy Cambodia Cycling
There are three major seasons in Cambodia, namely, the high season, low season, and wet season. The months from November to March are the most suitable for Cambodia cycling. Cyclists love these breezier and colder months. If you intend to visit the country for Cambodia cycling during the high season, make sure you book in advance the cycling tourism and other accommodation facilities. The wet season is (June/July – August) is not suitable for Cambodia cycling because you won't be able to enjoy your cycling experience amidst lots of mud and flooded streets. Cambodia cycling is also not advisable during the low season (March – June, September to October) as the temperature soars high up during these months.
Read More: Best Time to Visit Cambodia
Routes for Cycling
You can either follow the accessible directions as recommended by other travelers, or you can take the help of a bike route planner. In both cases, you will be able to travel freely, relying on the routes.
Maps
Get your hands on a map of Cambodia. While enjoying Cambodia cycling, you can use this map to have a general idea about the location of a particle place. Also, these maps will come handy in case you do not have n access to Wi-Fi due to some reason.
Perfect Regions to Explore on a Cycle
There are three main areas where you can enjoy Cambodia cycling. Phnom Penh is popular among the cyclists, as it provides opportunities for both competition and leisurely ride. Here you will get to enjoy the scenic beauty of a panoramic rural landscape as well as the hustle-bustle of city life. Angkor Wat temple complex entry is free for cyclists. You will fall in love with the vast, open expanse, picturesque rice paddies, and the real rural life of Cambodia in the Battambang region.
If you are up for Cambodia cycling, then choose a mountain bike. Always carry eyewear, helmet, bicycle repair kit, insect repellents, bottled water, first aid kit, and a good sunscreen. You can also carry a Swiss knife, emergency whistle, and a torch for safety purposes. Take care of the road conditions. They can be full of silts. There may be a mix of paved surfaces and dirt. Keep safe and enjoy exploring this wonderful country on two wheels.