5 Great Reasons to Take a Cambodia Solo Travel
Solo traveling is a unique experience that every traveler must undertake at least once in their lifetime. For all the solo travelers, Cambodia can be a great option. It is a country that has so much to offer to the tourists in terms of its history, culture, tradition, panoramic land, and seascapes.
Cambodian food
is extremely popular among foodies worldwide. Hence, Cambodia solo travel can be quite a fun experience.
For those who are looking for a perfect tourist spot for solo traveling, here is the list of top five reasons to embrace the idea of Cambodia solotravel. These will, for sure buck up the solo traveler within you: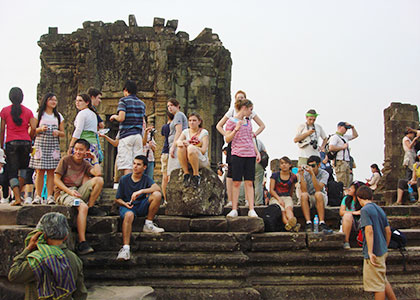 Get to Meet Lots of Other Travelers
1. Easy Getting Up with Other Travelers
There are three major travel hotspots in Cambodia. Here, you will, for sure, get to meet lots of other travelers. It is fascinating to meet new people and gain knowledge from their experience. You will be able to meet many solo globe trotters too in Cambodia.
The three main hotspots for tourism in Cambodia are Sihanoukville, Phnom Penh, and Siem Reap. Phnom Penh is the capital of Cambodia and is famous for the
Royal Palace
and notorious
Killing Fields
. While Sihanoukville can be an excellent option for solo travelers who love the beauty of offshore islands and white sand beaches. And Siem Reap is the ultimate destination for the wanderlust minds as it is the gateway to the exquisite Angkor Temple Complex. See also
How to Visit Angkor Wat
2. A Haven for the Solo Travelers
For those who are considering the concept of solo traveling, the idea of Cambodia solo travel is a good one because one need not worry about the safety issues in that country. There is no such risk of high voltage criminal incidents. Cambodia is safe for female solo travelers. There is a very low risk of sexual harassment, rape, molestations, etc. This is mainly because of the Buddhist population of the country. They are incredibly peace-loving and selfless people. Petty crimes like pickpocketing, purse snatching, etc. are common here. So it is better to remain alert and use your common sense all the time.
3. Amiable Locals
Cambodia solo travel will not at all disappoint you. Instead, you will feel delighted and satisfied because of the warm and affectionate hospitality of the local people. Their big smiles and friendly nature will not let you feel alone or homesick. Instead, you will crave for their enriching company. They are also very proud of their country's recovery from the traumatic rule of Khmer Rouge.
The local communities are keen on showing the rest of the world the real and authentic side of the country. They will be more than happy to help you out in your Cambodia solo travel journey. You must take some time out to meet these happy and friendly bunch of local people who

Amiable Local Kids
will forever be a part of your travel memory.
4. Cost-Effective
Cambodia is a country where you need not splurge so much money to have a fulfilling travel experience. Cambodia solo travel will be well within your budget. Just like the rest of South East Asia, Cambodia feels light in your pocket. The delicious Cambodian is exceptionally cheap, as low as $3-$5 USD. This is the rate of food in Cambodian restaurants. Street food is less expensive as compared to restaurant food. Even the local city transportation charges are quite low. You need not worry about the lodging facility, too, as you will get to lodge in hostel dorm rooms for as low as $4 per night. Such dorm rooms in hostels are the perfect option if you are keen on meeting new people and making new friends. Private rooms are also available on a low budget ($5-$10). So it will be effortless to travel solo in Cambodia. Cambodia solo travel will never disturb your budget limit.
Read More: Average Cambodia Trip Cost

5. No Chance of Getting Bored at All
Cambodia is not just about temples, killing places, the royal palace, and so on. This country has so much more to offer to satisfy the wanderlust minds of travelers. Apart from the three major travel hubs, there are many more tourist places like Battambang, Kratie, Kep and Tonle Sap, etc. Battambang is famous for its exquisite French colonial architecture. Kratie will let you have a glimpse of rare Irrawaddy dolphins while the coastal region of Kep is perfect for enjoying the stunning sunsets and delectable seafood. Hence, you won't feel bored if you are undertaking Cambodia solo travel.
Cambodia solo travel is, indeed, a good idea. Hope, the above points are enough to inspire you. So what are you waiting for? Pack your bags and set out for the Cambodia Solo travel journey.
You May Like:
10 Things to Know Before Backpacking Cambodia