19 Vietnam Tourist Attractions You Should Not Miss
Vietnam is a place for an unforgettable experience, starting from visiting the beautiful cave system of Phong Nha-Ke Bang National Park to taking a lifetime to cross the streets of Hanoi in between the infinite tide of motorcycles. You will always find something extraordinary within the cities of the green country.
With a magnificently diverse and beautiful cultural heritage, the entire nation scattered with stunning locations. These Vietnam tourist attractions will surely make your trip to the country worth every penny.
1. War Remnants Museum, Ho Chi Minh City
One of the popular Vietnam tourist attractions among the tourists to the Ho Chi Minh City, the War Remnants Museum beautifully describes the impact of war on Vietnam and its civilians. The museum contains photographs of war brutalities, memorabilia, weapons used in the Vietnam War and so on. Sometimes the displays seem one-sided, but overall it's a good place to learn about the Vietnam War.

Address: 28 Võ Văn Tần, Phường 6, Quận 3, Hồ Chí Minh City
Timing: 7.30 am – 6.00 pm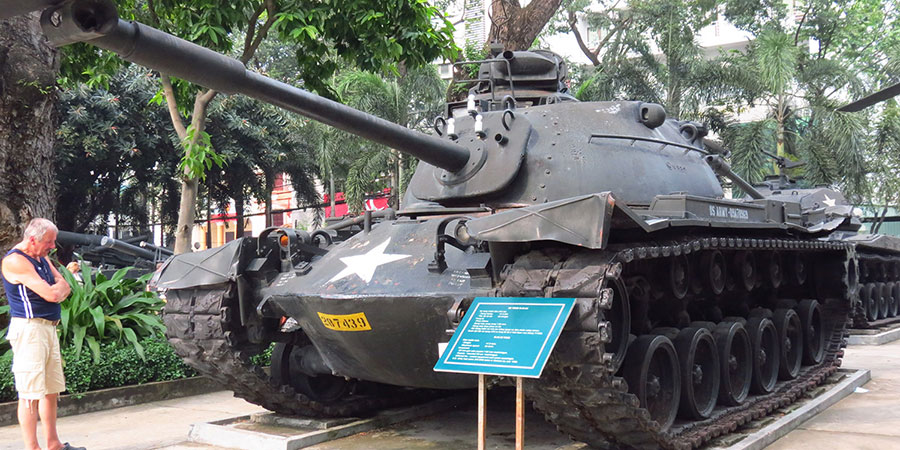 Tank Used in Vietnam War
Read More: Top 10 Vietnam Museums
2. Son My Memorial, Quang Ngai
Located in a tranquil surrounding, the Son My Memorial is built in the memory of one of the most brutal massacres committed in the history of the country. Close to 500 villagers, mostly children, and elders were brutally massacred by American soldiers on 16th March 1968. The memorial contains several on-site remnants of the massacre, including the brunt out shells of huts that were flamed by the soldiers. The place has a cathartic effect on visitors.

Address: Tịnh Khê, Quảng Ngãi
Timing: 7.00 am - 4.30 pm

Son My Memorial in Quang Ngai
3. Phu Quoc Island and beaches
Phu Quoc Island, is the largest one in Vietnam, is surrounded by pristine beaches and tropical forests. A beautiful island, still free from rampant development projects, is an ideal location for tourists looking for peaceful Vietnam tourist attractions. At Phu Quoc Island, do visit the Bai Dai Beach (Long Beach) – one of the cleanest beaches in the world. The island is also famous for its delicious fermented fish sauce, Nuoc Mam.

Address: Phu Quoc, Kien Giang
Timing: Open 24 hours

The largest Island in Vietnam - Phu Quoc
4. Hoan Kiem Lake, Hanoi
The stunning Hoan Kiem Lake in Hanoi is probably one of the most surreal Vietnam tourist attractions. One of the favorite local leisure points, the iconic lake gets its name from local legend. According to the story, the local King Le Loi was given a magical sword (Hoan Kiem) from the gods. After fighting a war against the invaders, King Loi returned the sword to the gods of the lake. After a tiring day, the relaxing at the Hoan Kiem Lake is the highlight of many tourists coming to the city.

Address: Hang Trong, Hoàn Kiếm, Hanoi
Timing: 8.00 am – 5.00 pm

Hoan Kiem Lake
5. Giac Lam Pagoda, Ho Chi Minh City
Believed to be one of the oldest temples of the city, the Giac Lam Pagoda is an enchanting place. A majestic Bodhi Tree, a gift from a Sri Lanka Buddhist monetary, welcomes the visitors to this holy place. After a spiritually uplifting prayer session, many tourists have admitted to finding inner peace and tranquility. One can board Vietnam's popular motorbike taxi (xe om) from Cholon to reach this venue.

Address: 565 Lạc Long Quân, Phường 10, Tân Bình, Hồ Chí Minh City
Timing: 6.00 am – 12.00 pm, 2.00 pm – 8.30 pm

Buddha in Giam Lam Pagoda
6. Imperial Enclosure, Hue
The Imperial Enclosure, in simpler terms, can be considered as citadel after citadel. It was heavily destroyed during the French and American War, and now only a fraction of the main construction remains. However, exploring the ruins of the Imperial Enclosure could be a pleasurable experience. During summers, a special cultural event is organized for the tourist's entertainment.

Address: Thành phố Huế, Thua Thien Hue
Timing: 7.00 am - 5.30 pm, (Special extension till 10 pm, during April – September)

Amazing Gate of the Imperial City
7. Hanoi Weekend Night Market
One of the busiest markets of Hanoi, this is one of the must-visit Vietnam tourist attractions of Hanoi. Surrounded by numerous vendors selling delicious local cuisines, the weekend market is frequented by both locals as well as the tourists. It is a popular destination for photography enthusiasts, and food lovers. Apart from food, one can get t-shirts, souvenirs, accessories, and shoes from the vendors.

Address: Hang Dao Street, Hoan Kiem, Hanoi
Timing: Friday to Sunday – 8.00 pm to 11.00 pm

A Busy Market with Various Goods
8. Ha Long Bay Island
Located in the north of Vietnam, it is one of the frequently visited tourist destinations of the country. The group of small islands covered in splendid vegetation. Visitors can explore the caves, or just visit the floating village of the fishermen. The entire landscape offers a beautiful escape from the mundane city life.

Address: Thành phố Hạ Long, Quảng Ninh
Timing: Open 24 hours

Ha Long Bay Island
9. Hoi An
The Hoi An village, located on the coast of the South China Sea, is a popular tourist destination. Inhabited by fishermen community, Hoi An has been an important trade center for the region since the 16th century. The village has still managed to maintain its old school charm due to its winding lanes and Chinese styled shops. Hoi An is also well-known for its narrow canals that cut through the several parts of the town, similar to Venice.

Address: Quang Nam Province
Timing: Open 24 hours

Beautiful Night View in Hoi An
10. Thang Long Water Puppet Theatre, Hanoi
As the name suggests, the Thang Long Water Puppet Theatre hosts water puppetry shows. In these shows puppets, operated by technicians hidden by a bamboo screen, perform over a pool. It has been an integral part of Vietnam's culture, and its origin could be traced back to the 11th century. Accompanied by a traditional orchestra, the shows are usually based on the folklore and local legends of the country.

Address: 57B Đinh Tiên Hoàng, Hàng Bạc, Hoàn Kiếm, Hà Nội
Timing: Daily 03:00 pm, 4:10 pm, 5:20 pm, 6:30 pm, and 8:00 pm

Performance of the Water Puppet
11. Hoa Lo Prison Museum, Hanoi
The Hoa Lo Prison Museum is an important landmark in the history of Vietnam's struggle for independence. The prison, once run by French imperialists, contains shocking relics like French guillotine used to execute the Vietnamese prisoners. Also, referred to 'Hanoi Hilton' by American prisoners of war, this prison has witnessed some difficult times of the country.

Address: 1 Hoả Lò, Trần Hưng Đạo, Hoàn Kiếm, Hà Nội
Timing: 8.00 am – 5.00 pm
12. Tan Ky House, Hoi An
The Tan Ky House is a testament to Vietnam's diverse culture. The architecture has elements of Chinese and Japanese influences, with beautifully decorated interiors, it a beautiful place to visit. Being two centuries old, the house was once boarded by European merchants coming to Hanoi for trade and commerce.

Address: 101 Nguyễn Thái Học, Phường Minh An, Hội An, Quảng Nam
Timing: 8.30 am – 5.45 pm
The Mekong Delta, also known as the 'rice bowl' of Vietnam, surrounding the Mekong River is covered in rich and beautiful green paddy fields. During the sowing and harvest season, one can find villagers working in their fields. The best way to access these villages is through the river. Tourists looking for offbeat experience should visit the Mekong Delta for some adventure.

Address: Mekong Delta, Vietnam
Timing: Open 24 hours

Locals Rowing A Boat in Mekong River
Read More: Mekong River Cruise - 10 Reasons to Say Yes
14. Dong Ba Market, Hue
Dong Ba Market or Hue Market is probably the oldest market in Hue. Spreading in the area of 16,000 square meters, visitors can find a variety of things. The market is divided into several sections selling fresh seafood, household items, meat and everything else. For an authentic experience and some delicious Vietnamese breakfast, one should visit the market by 8.00 am.

Address: 2 Trần Hưng Đạo, Phú Hoà, Thành phố Huế, Thừa Thiên Huế
Timing: 6.00 am – 6.00 pm

Vegetable Section in Dong Ba Market
15. Phong Nha Caves
The intricate 14 limestone grottoes located in the Ke Bang National Park, the Phong Nha Caves are listed in the UNESCO World Natural Heritage Site in 2003. The place was used by the Cham People as Buddhist Sanctuaries in the 10th century, and some of the caves are decorated with Cham inscriptions and altars that can be visited by tourists. A popular Vietnam tourist attraction among thrill-seeking tourists, visitors can go for nocturnal climbing, subterranean swimming, and jungle camping.

Address: Phong NHA, Bố Trạch District, Quang Binh Province
Timing: 6.00 am – 6.00 pm

Amazing Caves in Quang Binh
Read More: Explore the Vietnam Cave - The Largest One in the World
16. Cao Dai Temple, Ca Mau
The Cao Dai temple is one of the most revered Vietnam tourist attractions. Decorated with a riot of colors, the temple is visited by the followers of Caodaism. The temple has four prayer halls decorated with murals inspired from local imagery. Visitors can participate in these prayer sessions or religious ceremonies. Overall, people feel a sense of bliss after attending these ceremonies.
17. Hang Nga's Guesthouse in Da Lat
The Hang Nga's Guest House, or the 'Crazy House' as referred by locals, is an unconventional complex inspired by the works of Antoni Gaudí, and Salvador Dalí. The building is well-known for its offbeat architecture that looks a lot like a giant tree, with design elements inspired from nature. Visitors can tour the place, or stay overnight for a fee.

Address: Số 3 Đường Huỳnh Thúc Kháng, Phường 4, Thành phố Đà Lạt, Lâm Đồng
18. Bac Ha Market, Sapa
Another Sunday market of Northern Vietnam, this place is ideal for the tourist who wants to glimpse the culture of the country's highlands. Due to its accessibility and proximity with the mainland, the market is often visited by travel-hungry tourists. One can buy beautiful silver jewelry, traditional brocade textiles.

Address: 152 Ngọc Uyển, TT. Bắc Hà, Bắc Hà, Lào Cai
Timing: 7.00 am

Bac Ha Market in Sapa
19. Street foods of Hanoi
The street food of Hanoi is something that is infused with different tastes and flavors. The clear broth bún thang (rice noodles made in chicken stock) served with shrimp paste and mushrooms would create an explosion of flavors in the mouth. Served with a lot a variety of herbs, the North Vietnamese street food is best served hot. While touring the streets of Hanoi, one must try the Pho (Noodle Soup), Bun Bo Nam Bo (Beef & Noodles) and Pho Ga (Chicken Noodle Soup) are some of the must-try dishes.

Address: Hàng Gai, Hoàn Kiếm, Hà Nội

Timing: 6.00 pm onwards

Vietnamese Baguette
Read More: Try Authentic Vietnam Street Food