Let's Try Authentic Vietnam Street Food
Traveling through the lengths and breaths of Vietnam, you will be amazed by the variety of Vietnamese cuisines. From flavorful street food stalls to upscale dining restaurants, Vietnam has everything. The diverse landscape, consisting of mountains, rice paddies, fertile delta plains, and golden beaches, and a long cultural exchange has endowed the Vietnam culinary arts, its intense structure.
One of the popular features of the Vietnamese gastronomy is its street food. The specialties like Pho or sizzling pancakes are some of the flavorful examples. Vietnam street food is intense and is made with locally available ingredients. The Northern Vietnam style of cooking is similar to China. The usage of spices is minimal, but black pepper is a must. On the contrary, the central and southern cuisines use spices, colorful vegetables, and sugar to make the recipes more intense.
The basic ingredients of Vietnamese cooking consist of fresh herbs, spices, sugar, fermented seafood sauces, fishes and meats. Vietnamese love their meats, and it can be seen from their wide variety of meat infused dishes. But if you are a vegan or a vegetarian, fret not. There are vegetarian (com chay) restaurants, close to Buddhists temples, where vegetarian Vietnamese food is served.
In this Vietnam street food list, you will find some interesting dishes that will cause an explosion of flavors in your mouth:
Pho (pronounced as Fu)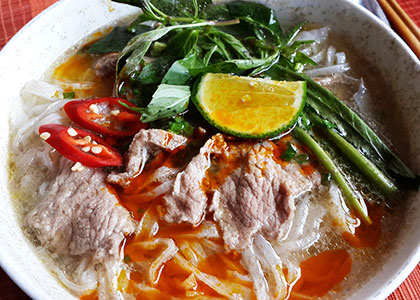 Rice Noodles Served with Pork

Where to try: Hanoi
Pho is probably the national dish of Vietnam and is widely found in almost every corner of the country. It is impossible to walk the streets of Vietnam without escaping the smell of freshly made pho, and the patrons of this delightful dish the surrounding the pho stands.
The entire plate of pho consists of broth, rice noodles, and choice of meats – chicken, pork, or beef. Before serving, the dressing is customized according to the preference of the diner. The traditional variety of Pho made from beef is called pho bo, whereas pho with shredded chicken is known as pho ga.
Xoi

Where to try: Hanoi
The glutinous sticky rice, Xoi, is often served in the highlands of Vietnam as the main dish. However, in the rest of the country, the dish is enjoyed as a side. Available in both sweet (ngọt) and savory (mặn) variant, Xoi with its multiple stuffing is a popular Vietnam street food. Cooked in special rice cookers, the dish is typical Vietnamese comfort food.
Although, major restaurant chains of Vietnam include different varieties of Xoi in their menus, the real flavors of this guilty pleasure can be best experienced on the streets.
Bánh Xèo

Where to try: Hoh Chi Minh City (HCMC)
The Bánh xèo is similar to crepes made with meats and vegetables. Meaning 'sizzling pancake', rice flour, turmeric, salt, and water are the main ingredients of Bánh xèo. Decorated with a healthy dressing of fresh herbs, the tasty crepe consists of bulging shrimps, pork or bean spinouts. The colorful dish served with several dipping sauces, which enhances its flavors.
The authentic Vietnamese way of enjoying the dish is to cut it in bite-size, rolling it in lettuce leaves and dipping it in sauces – before putting it in the mouth. Try it and you will experience the explosion of flavor in your mouth.
Bánh Khot

Where to try: Vung Tau
Another popular Vietnam street food is Bánh khot. The delightfully colorful prawn pancakes made from the batter of ground rice and coconut milk, cooked in the special molds, are extremely tasty. These pancakes have a crispy crust and soft center, giving you different textures in every bite.
Usually eaten with herbs rolled in lettuce leaves or rice paper with a helping of sweet fish sauce, the Bánh khot is a very popular street delight. These small crepes will surely fill your stomach but not your heart.
Goi Cuon

Vietnamese Spring Rolls

Where to try: Ho Chi Minh City
The Vietnamese spring rolls are traditionally made with the pork, shrimps, vegetable stuffing wrapped in traditional Vietnamese rice papers or bánh tráng. The Goi Cuon is translucent, is sinfully stuffed with fillings, and is served with the faithful companion of the Vietnam street food – the fish sauce.
Usually, the Goi Cuon is served fresh, but there are fried varieties of the dish available on the streets as well. Although, the fried variants are called as Nem Ran in the northern part of the country, and Cha Gio down south.
Bot Chien

Where to try: Ho Chi Minh City
Undoubtedly, Bot Chien is a popular Vietnam street food. A fusion dish, created with Vietnamese and Chinese influences, can be easily found in the streets of Ho Chi Minh City. You will find locals and tourists savoring a plate of Bot Chien at midnight. Many restaurants serve different varieties of the recipe with a different combination of sauces.
Made with rice flour and eggs, the dish is served with shallots, and papayas – making it a flavorful delight. Locals prefer their Bot Chien with pickled chili sauce and some rice vinegar, giving the dish an extra zing.
Cao Lau

Where to eat: Hoi An
Cau Lau, the popular noodle dish of Vietnam, is another example of different cultural influences that have shaped the gastronomy of the country. Similar to the Japanese-style noodles, Cau Lau is made with a flavorful combination of herbs, vegetables, and pork slices. As a must try on the Hoi An Vietnam street food tours, the dish will leave a pleasant after taste in your mouth.
Mi Quang

Where to eat: Darang
Yellow noodles served with shrimps, bean sprouts, chopped peanuts, and delicious herbs are a heavenly combination. The dish is served with rice crackers and sweet and spicy chili jam. It is a specialty served during important festivals like Tet and on special occasions.
The thick rice noodles, cooked with herbs like cilantro and basil, gives the dish an intense flavor. Do not forget to take a helping of lime juice to make the dish more flavorful.
Lastly, Vietnam street food is simply a gastronomic affair. Infused with fresh ingredients like scallions (onion leaves), banana flower (bắp chuối bào), and water mint (rau húng lủi) – the Vietnamese street food will cause a riot of tastes in your mouth.
Here are some honorable mentions, which are equally fascinating:

Bánh

Banh mi

Ca Phe Trung
You May Like:
Vietnam Culinary Tours that Reveal the Spirit of the Country
Exploring Vietnamese Culture beyond Cuisines
Why Vietnamese Cuisine Is Favored by Gastronomes?