6 Off-the-beaten-track Places to Visit in Vietnam
Want to explore the off-the-beaten-track places to visit in Vietnam and know the authentic side of the country? If your answer is yes, then these locations will feed the adventure traveler in you. It's definitely for people looking to shift their focus from mainstream locations to a much deeper and real side of Vietnam. There are a lot of hidden gems in this beautiful country that summarize the edgy occupation and raw lifestyle of the people living here. Vietnam offers everything a traveler could wish for, from a clear view of lofty mountain ranges to splashing beaches.
There is so much more to absorb in these places other than just beautiful views and fresh environment. These unique places are oozing with interesting activities that can keep you involved for hours. The returning tourists of Vietnam labeled the following 6 locations to be the best decisions of their travel journey. Get your backpack, book the ticket, and let's take you through some of the exotic, less-traveled places to visit in Vietnam.
1. Mu Cang Chai
Does terrace cultivation amaze you? If it does, then chances are you have been inspired by one of the Mu Cang Chai pictures from Vietnam. The aerial view of this field has a beauty of its own. Sprayed and bathed in the shades of bottle green and yellow, this place will let you discover the complete lifecycle of rice cultivation.
This landscape is a gem to start with and was also considered as the highest-ranked landscape in 2007. Tourists might just explore the well-kept cultivation, however sometimes the local farmers face challenging situations to keep the ground waters in place for the desired harvest. The visit will not just show you the greenery and beauty but also the indigenous water sources arranged by the farmers. Surprisingly, because of its remote location, not many tourists gather the courage to visit this place, but it's worth the trek.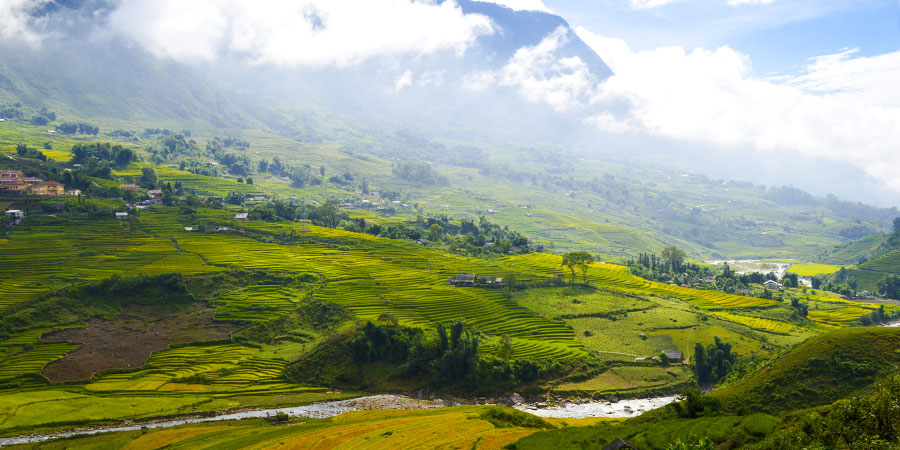 Green Rice fields on Terraced in Mu Chang Chai
2. Ba Vi National Park
This national park is very famous among not just the international tourists but the domestic travelers as well. Have you had planned for short trips while in Vietnam, this can be a perfect weekend getaway. Ba Vi is not a crowded place and it's surprising why tourists don't visit these nearby locations too often. There is a Ho Chi Minh statue and a temple dedicated to Uncle Ho. If you are up for exploring some spiritual locations, then Ba Vi will serve the purpose right.
This national park offers an incredible getaway for people looking for underrated places to visit in Vietnam. You will not forget the cool mountain breeze and mystical environment tucked away from the city life. To your surprise, you will also find an unexpected spa resort right at the foothills of the mountain. Visiting this location will bring forth the opportunity to witness the stunning nature set up around the area.
3. Son Tay Town, in North Vietnam
The touch of deep nature and traditional Vietnam is incomplete without visiting the Son Tay Town. Its home to over 1,000 Vietnam families. They build their houses with mud, oil, rice husks, and other natural materials. After the terrace cultivation, this village located approximately 60 km in the west of Hanoi is another location that worth the trek.
There is so much to look forward to, from visiting the temples to the tomb of the shrine; there is always room for more spirituality and wonder. Unlike many other locations, this town has uncountable trees that are hundreds of years old shading the narrow streets. These ancient nature setup and vintage citadel make this small village worth visiting.
4. Quy Nhon, in Central Vietnam
This small town is a perfect example for an off-the-beaten-track location because it's not considered as a popular tourist destination. But the view of the beach that surrounds this town is worth the visit. This beach doesn't get a lot of visitors during the day, but receives a considerable crowd after the sunset. This developing port city is growing in number with every passing year.
The authorities are planning to increase the population which is already 260,000, with the advancement in the infrastructure to promote tourism. People mostly follow fishing as their main occupation. This is also a wonderful place to visit in Vietnam for seafood lovers.

Beautiful View of the Beach around the Town
5. Phong Nha – Ke Bang National Park, in Central Vietnam
Phong Nha is well known as a UNESCO World Heritage site. It's located in the north-central of Vietnam and has an increased tourist attraction recently. Once you sign up for this national park, be ready to explore the 464 million-year-old earth crust, which is also one of the major karst formations in Asia. This eco-region of the indo-pacific has a lot to offer in terms of underground rivers, dry caves, dendritic caves, terraced caves, and suspended caves.
Tourists will have countless things to do in this national park that include visiting caves by boat and exploring the grottos. You can also enjoy activities like mountain climbing and trekking. It's not hard to notice that this national park is home to a lot of unique flora and fauna.
6. Chao Doc, in South Vietnam
Situated in the borders of Vietnam and Cambodia, this riverfront city will surprise you with their food cultivation skills. Tourists who are in search of adventure and interaction with the locals often visit this town via boat. This small city has a very smart and peaceful setting with a floating market place, mosques, Buddhist shrines, and temples. Tourists will get to see the full stretch of the countryside from around 23-meter high observation. This place also has a roadway but is six hours away from the bus location.
For tourist who is fond of bird watching will also find a home in this location. Just about 25 km away from Chao Doc by bus or motorbike, there is a bird sanctuary that you can visit.

Floating Market
Vietnam nestles some of the unmatched beauty in the form of unexplored mountains and less crowded beaches. These places to visit in Vietnam will disclose a slice of village occupation and incredible piece of nature that are hard to unfold in the mainstream areas of Vietnam. These off-the-beaten-track destinations of Vietnam consist of hidden gems you ought to explore.