Top 10 Places to Visit in Nepal in December
December is labeled as an off-season for tourists in Nepal, and that is what makes it interesting. (See also
Nepal weather in December
). The time of winter season in Nepal brings along bearable cold, sunny skies and stunning view of the frozen mountains. Even though the climate drastically varies between the regions, there are still tempting for tourists to trek and enjoy the mild heat on high altitudes. To help you plan a memorable trip, here is a list of the top 10 places in Nepal.
1. Kalingchowk
People looking to get away from the hustle of city life will find a home in Kalingchowk. It's a famous trekking site among the tourists and is also known as the winter paradise. There are beautiful mountains and mesmerizing sights where you enjoy a lot of winter activities. What make this place more unique are the famous temples and pilgrim activities that tourists enjoy. It is among those places to visit in Nepal in December that are slowly growing popularity, mainly because it has a lot of attractions from start to finish.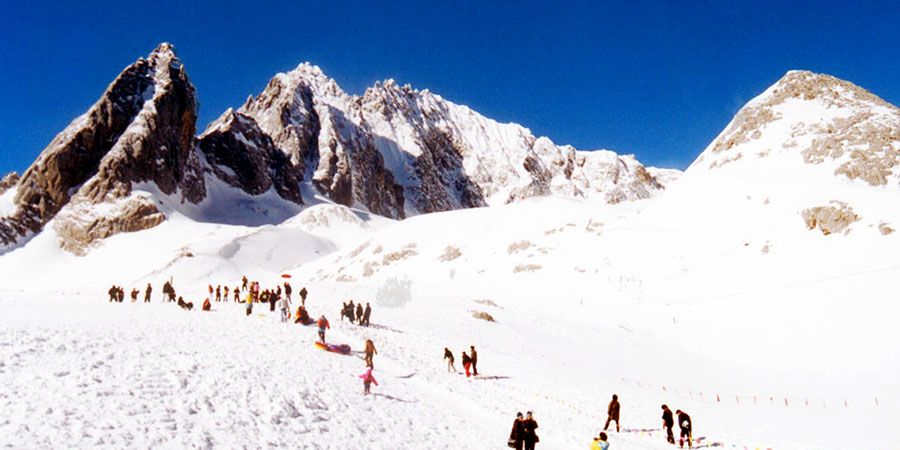 Try Skiing in Kalingchowk
Activity Highlights
• Go for trekking
• Enjoy the sunset from the top of the Kalichowk temple
• Take part in the rituals in the temple
• Go for hiking
• Set up camping
• Try Skiing
• Try simmering dishes on streets
2. Pokhara
Lovers of adventure sports wouldn't want to miss this destination. Pokhara is best for adventure sports, and the surrounding beauty is filled with stunning mountains and lakes. The best part of this location is that it has a gateway to the Annapurna range. So, visiting Pokhara means you will have a brilliant chance of exploring the famous trek site quite easily.

Stunning Mountains and Lakes in Pokhara
Activity Highlights
• Trekking is highly practiced
• Paragliding
• Visit the famous Pagodas
• Visit the famous museum of Pokhara
• Skydiving
• Bungee jumping
• Base jumping
• Rock climbing
3. Bandipur
Bandipur is one of best explored places to visit in Nepal in December for its Newari culture, traditional houses, and much more. The locals of this town have taken a lot of effort to preserve the traditions and culture of this land. Bandipur is also famous and preferred by a lot of tourists because winter isn't too harsh in this medium elevation.

Explore the Villages and Shops in Bandipur
Activity Highlights
• Go for hiking
• Try downhill trekking
• Explore the villages and shops
• See the orange orchard and silk farms
• Go for cave exploration
4. Nagarkot
When you are visiting the central region in Nepal, don't miss Nagarkot. This location is just 32 km (20 mi) away from the capital Kathmandu. A great advantage of exploring this town is that most of the mountain ranges are viewed from this place during the winter (and the summer season).

See the Mountain Ranges from Nagarkot Town
Activity Highlights
• Hiking
• Go for a nature walk
• Try trekking
• Paragliding
• Witness the sunset and sunrise viewing
• Go for cycling
5. Poon Hill
This is another excellent place to visit in Nepal in December in Nepal. It's most popular among the trekkers and for those looking to take a short Nepal trip. Poon Hill is preferred by tourists who love photography for all the right reasons. The snowy layer and bearable freezing climate makes this location a must to visit during winter. Apart from all the beautiful frozen view and surrounding nature, you can also enjoy a nice blend of native tradition in their delicious food.

Poon Hill in December
Activity Highlights
• Trekking
• Photography
• Camping
• Kids friendly trekking trip
6. Chitwan
This small town is one of dream places to visit in Nepal in December for people who love wildlife. Chitwan has a lot of adventure activities in this place along with good shopping places, lakes, palaces, and excellent scenic beauty. Tourists are often suggested to buy mustard oil because Chitwan is globally renowned for mustard cultivation. This place is also quite famous for its delicious dishes.

The Hippo in Chitwan National Park
Activity Highlights
• Wildlife, jungle safari
• Shopping at the local market
• Boat ride
• City sightseeing
• Camping under the stars
• Bungee jumping
• Hiking
7. Kakani
People looking for less crowded destinations and quiet environment will find a home in Kakani. This place is less crowded and comparatively quieter than the other tourist attractions. People often love traveling to the edge of the valley for getting a clear and close view of the Himalayas.
Activity Highlights
• Hiking
• Mountain climbing
• Camping
• Trekking
• Visiting strawberry farm
• Mountain biking
8. Mustang
Mustang is one of the top places to visit in Nepal in December. It's a very beautiful and isolated place in the Himalayan region. This place celebrates the culture and traditions warmly and that's what makes this place famous among the tourists. This location is often mentioned as a cultural spot, and you will need permission to explore the upper side of the Mustang. To summarize this place in short, it's completely worth a winter visit.
Activity Highlights
• Trekking
• Camping
• Hiking
• Fossil hunting
• Visit the local orchards
• Jeep ride through mountains
• Visit religious sites
9. Ilam
Ilam is one of the very famous tourist destinations due to its rich wildlife background, diversity, hills, and cultural elements. Tourists are highly attracted to this place to click pictures and explore the region. Some of the top places to visit in Ilam are Sadakpur, Kanyam, Siddhi Thumka, AntuDanda, Mai Pokhari, and others.
Activity Highlights
• Forest trekking
• Mountain route drive
• Go for picnic
• Winter annual fair
• Witness the sunset and sunrise
• Take a pilgrimage to GajurMukhi, Mai Beni, Pathibhara, and others.
10. Mardi Himal
This landscape is famous for a lot of adventure activities. It also has a brilliant trekking destination with some of the best camping surroundings. To explore the beauty of this location, you will have to visit between March and November, i.e. during winter. Along with enjoying the snow, you will also get the opportunity to trek through the cultural villages and other amazing sites.
Activity Highlights
• Trekking
• Sightseeing
• Teahouse visit
• Witness cultural performances
• Witness Sunrise and sunset
The beauty of December in Nepal can't be captured in words. These places have infinite splendor for tourists. It not only proves to be an excellent travel destination but also a great place to regain your peace of mind. These 10 places to visit in Nepal in December will surely be your on-spot undoing for your stress and anxiety.
Explore the winter ahead!
You may like:
Did You Miss These 5 Famous Nepal Tourist Places?
Top 10 Cities to Visit in Nepal
5 Best Honeymoon Places in Nepal