8 Best Places to Visit in Nepal
Nepal or the Federal Democratic Republic of Nepal, the land of fluttering flags and towering mountains, is the ultimate destination for adventure as well as leisure travelers. Home to the iconic Himalayan Mountains, including the Mount Everest, the country attracts tourists from every corner of the world. The unofficial trekking hub of the world, Nepal is always on the bucket list of a mountaineer.
But Nepal's dynamic landscape is not limited to just mountains. The country has an attractive cultural heritage, stunning palaces and gompas, colorful festivals and so much more in between. Some of the best places to visit in Nepal include stunning Kathmandu and its iconic UNESCO World Heritage Sites, historical Lumbini and its surreal Buddhist monasteries, and the towering mountain trails that take you close to the sky.
Here are some of the must visit places of Nepal, which a tourist must not miss:
1. Kathmandu
As the old capital city of the Newari rulers of Nepal, Kathmandu is the first on the list of best places to visit in Nepal. Exploring Kathmandu is an experience with so many sights, sounds and colors at play. Post 2015 earthquake has deeply affected the stunning Durbar Square, but still most of the areas have remained intact.
Strolling through the alleys and lanes of the city, you will find the real Nepal peeking through the corners. The traditional cuisines inspired from the locally sourced ingredients and spices makes Nepal one of the favorite gastronomic destinations of Asia.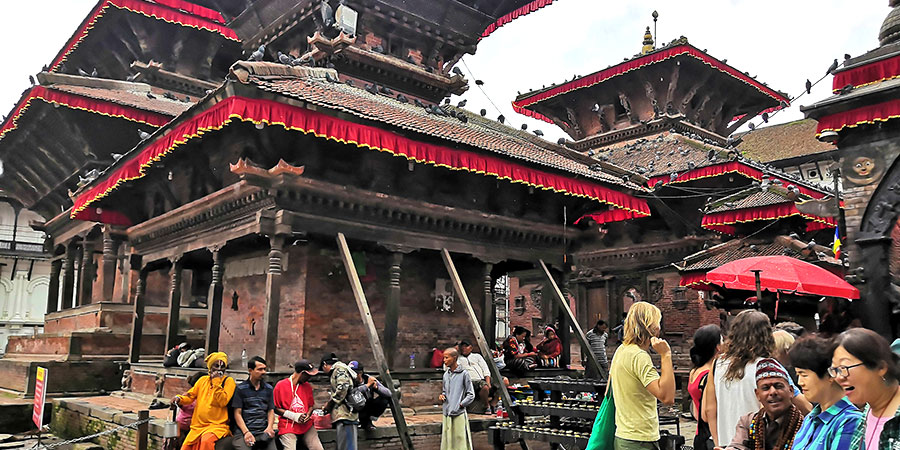 Durbar Square in Kathmandu
How to reach: Nepal's only international airport, Tribhuvan International Airport, is located at Kathmandu. The city is connected to several Asian and Middle Eastern Countries via airlines. Domestic and international busses are also available.
Must do activities:
• Exploring popular landmarks including Pashupatinath Temple, Boudhanath Stupa, and Itum Bahal
• Trying river rafting and adventure sports
• Eating delicious momos and drinking Nepalese craft brew
2. Janakpur
Janakpur, home to the Maithili culture, is an interesting destination. Also referred as Mithilanchal, the place finds its mention in the Hindu epic Ramayan. As an important pilgrimage site for the natives as well as Hindus all over the world, the city is surrounded by sacred ponds and massive 19th century temples.

Janakpur - Home to the Maithili Culture
How to reach: The city is connected to Kathmandu via flights. Apart from that, busses and taxis are also available.
Must do activities:
• Exploring the different temples and Buddhist monasteries within the city
• Expedition through the toughest trekking routes, Rolwaling Valley
• Shopping at Janakpur Women's Development Centre
3. Lumbini
The ancient city of Lumbini is considered as the birthplace of Gautama Buddha. The city is shrouded in colorful prayer flags, beautiful pagodas, and saffron clad monks chanting hymns – giving this place a surreal feeling. Lumbini, is located at the Terai belt of the Nepal, must be mentioned in the list of best places to visit in Nepal due to its importance in Buddhism.
The Maya Devi Temple is a significant landmark, where Maya Devi (mother of Gautama Buddha) is worshipped as mother goddess.

World Peace Pagoda in Lumbini Ancient City
How to reach: Flights from Kathmandu to Siddhartha Nagar are available, from there tourists have to board a bus to Lumbini. Cabs from metropolitan cities of Nepal are also available.

Must do activities:
• Visiting the Maya Devi Temple, Ashokan pillar, and Myanmar Golden Temple
• Exploring meditating at the World Peace Pagoda
4. Pokhara
Pokhara, the gateway to Annapurna Circuit, is the destination for every trekking enthusiast. Surrounded by stunning lakes, the city is well-known for its tranquil and beautiful landscape. Phewa Lake is a prime tourist spot, houses an island with a temple dedicated to revered deity called Barahi Bhagwati.
With scenic landscape and ample opportunity to try adventure sports, Pokhara is the perfect place for Nepalese holiday.

Barahi Bhagwati Temple
How to reach: Direct flights and busses from Kathmandu available.
Must do activities:
• Relaxing at Phewa Lake
• Trekking to Annapurna Circuit
5. Bhaktapur
Be one of the important cities of Kathmandu Valley, Bharatpur (Bhadgaon as locals prefer to call) is surrounded by temples. Narrow alleys, covered in rich tapestry of local Nepalese culture, surely make Bhaktapur an important city in the list of best places to visit in Nepal.

Handicrafts and Terracotta Products
How to reach: Regular bus services connect major cities of Nepal with Bhaktapur. Also, regular flights are available from Kathmandu.
Must do activities:
• Exploring the BhaktapurDurbar Square
• Shopping for lotus handicrafts and terracotta products
6. Annapurna Circuit
Annapurna Circuit with the stunning trekking trail, is one of the best places to visit in Nepal. Covering the picturesque villages and scenic mountain peaks makes this destination surreal.

Annapurna Circuit
Must do activities:
• Excursion to Muktinath, Manang, and Jomsom
• Staying at teahouses
• Soaking the Himalayan sunlight
7. Chitwan National Park
As one of the many UNESCO World Heritage Sites in Nepal, the Chitwan National Park is a delightful change from the usual hilly landscape of Nepal. Home to exotic Asiatic animals and birds, the part is a popular destination for wildlife lovers.

Chitwan National Park
How to reach: Direct busses are available from Pokhara and Kathmandu to Sauraha. From Sauraha shuttles are available.
Must do activities:
• Taking part in jungle safari, and village walks
8. Patan
Separated from Kathmandu by the serpentine Bagmati River, the stunning Patan is another popular temple city of Nepal. The stunning landscape was heavily affected by the 2015 earthquake, but the city has bounced back and welcomes tourists.
The 17th century monuments, with its intricate architecture and landscape, make this place simply beautiful.

Street Scene in Patan
How to reach: Busses and cabs from Kathmandu available
Must do activities:
• Do explore exotic Patan Durbar Square, Rudravarna Mahavihar, and other important landmarks
• Shopping at local shops
• Sipping local tea and momo
Nepal is an exotic location, surrounded by the Himalayan Mountains and dynamic landscape. The entire country reflects a stunning aura of natural beauty, where once is not enough. If you love mountaineering and want to explore some stunning destinations in the world, then best places to visit in Nepal awaits you.
So, what are you waiting for? Pack your bags, and get set go!
You may like:
Top 10 Cities to Visit in Nepal
Top 10 Places to Visit in Nepal in December
5 Best Honeymoon Places in Nepal