Do Not Miss the Magic of Authentic Egyptian Cuisine
Egypt has been cradling human civilization for eons and witnessing its evolution over time. Many rulers and generals have conquered the fertile deltas of
Nile River
in the search of boundless treasures. These newcomers, who brought in their culture and heritage along with them, influenced the local society. Food was also a part of this cultural transformation. While Lebanese or Turkish cuisines are popular in the world, we are yet to discover the magic of Egyptian cuisine. Here food is true to its roots but has evolved gradually – just like its people.
Egypt Cuisine - An Introduction
Food is always a vital part of any culture, and you can learn a lot from its cuisines. A traditional Egyptian meal is a soul sister of the Mediterranean style of cooking. Reliant on vegetables and pulses, the Egyptian cuisine is a beautiful treat to the eyes, nose, and stomach. Fresher and simple in appeal, Egyptian food is the food of the masses. Here pulses, legumes, and bread are the star of the meal and served in almost every meal. They love their proteins in the form of meat and fresh fishes caught from the Mediterranean Sea and the Nile.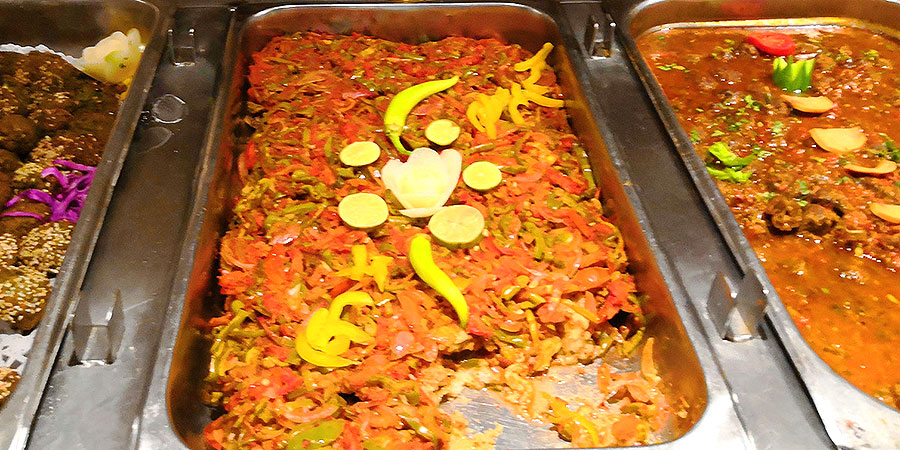 Egyptian Cuisine - Fresh Fishes
A traditional home-cooked Egyptian meal comprises of vegetables and stews. As pointed out, vegetables are the hero of a traditional Egyptian meal, thanks to the fertile Nile Delta plains in the north-eastern part of the country. With vegetables being easier on the pocket than meat, a huge portion of the society prefers eating them. Also, the Coptic Christians of Egypt prefer vegetables and vegan food over others. Since they follow a strict dietary restriction, nourishment from plants and tubers are preferred.
The Egyptians love to eat meat as well. Among the other sources of meat - chicken, lamb, rabbit, and ducks are widely available. Red meats are reserved for grilling and barbeque. In the coastal areas, fishes and seafood are the most popular.
Another, a staple in Egyptian cuisine, is cheese made from different kinds of milk. Among them, Domiati cheese variant is more popular among the locals and is a must at the breakfast table. Made from the milk of cow or buffalo, or a mix of both, the cheese is white and soft.
Read More: Typical Egyptian Breakfast Menus
What Comprises of An Egyptian Meal?
Bread (A'aish Baladi) is the main staple served with vegetable and meat stews. For special occasions, Mezze is served. It is a tray of hot and cold appetizers, an inherited tradition among the Egyptians from Turkey. Egyptians share a special love for dessert, and no meal is complete without the servings of rice pudding (Ruz bi laban) and nut infused milk custard (Mahallabiye).
Basic Ingredients in the Egyptian Gastronomy
By now it is clear that in the Egyptian food culture, vegetables are a prime ingredient followed by meats and cheese. Apart from that, fruits, legumes, and pulses are generously used for meals. In the coastal areas, fish and seafood are very popular.
Here are some of the common ingredients that can be found in an Egyptian kitchen:
1. Beans
2. Chickpeas
3. Spices (Bay leaves, Cumin, Coriander, and similar aromatic spices)
4. Eggplants, tomatoes, and host other Mediterranean inspired vegetables
5. Vermicelli
6. Domiati cheese
7. Tea
8. Bread
While these are just basic ingredients, in an Egyptian household you will find numerous gastronomic treasures on the shelf. The flavors in Egyptian cuisine are enhanced by spices.
Read More: Famous Egypt Food
The Tea Culture of Egypt
Tea is the national drink of Egypt and is a very important part of the local culture. Locals love their hot beverage and enjoy having them during any time of the day. A popular welcome drink, it is customary to offer warm brew to guests in the local households.
In Egypt, Koshary tea and Saiidi tea are regional variants of the beverage found in North and South respectively. While Koshary tea is lighter, Saiidi is stronger and sweeter. Apart from these variants, herbal teas are popular among the locals for its health benefits.
Read More: Special Drinks in Egypt
Some Common Customs Associated with Food in Egypt
Usually, Egyptian meals are divided into three parts – breakfast, lunch, and dinner. Breakfast comprises bread, cheese, and some form of protein (in most cases eggs). Lunch is the most anticipated meal of the day and served post at 2 pm. For dinner, the leftovers from the lunch are served.
Remember these things while eating at an Egyptian household:
1. Open your shoes before sitting to eat on a rug or a carpet
2. Try eating meals from the right hand
3. Smoking and drinking alcohol are prohibited on the streets, especially during the holy month of Ramadan
4. Remember to sit beside the person of the same sex, unless mentioned otherwise by the host
Eating Out - Note for the Tourists
The people of this country love to feed their guests, a cultural aspect still followed in many restaurants and eateries. While most Egyptians eat late than their Western counterparts, many restaurants start the business early to attract the tourist population.
Lunch is usually the most important meal of the day, while for dinner to eat lighter snacks are preferred.
Travelers can find the following options while eating out:
1. Restaurants
Several restaurants, around the popular tourist outlets, in different budgets offering quality food. These eateries serve Egyptian kebab, almost-there European-style dishes, and traditional Egyptian cuisine. Alcohol is not served here.
2. Street food
Budget-friendly eating outlets on the streets, these small units sell mouthwatering Shawarma, Fiteer, and other delights at a very affordable price.
Read More: Top 10 Egypt Street Foods
3. Café
The local cafes are open throughout the day and serve shisha and drinks. No food is served here.
You May Like: