Why Vietnamese Cuisine Is Favored by Gastronomes?
The basic practice by Vietnamese to produce mouth-watering Vietnamese cuisine is easy. It is famous for its diverse culture and authentic street food. Take a look at 10 famous unforgettable dishes that are must to try when you're in Vietnam. These Vietnamese cuisines are a blend of sweet, salty, hot and sour flavors throughout the region. Take a verbal graphic tour of 10 such dishes that are often mentioned and talked about by the tourists across the world.
1. Pho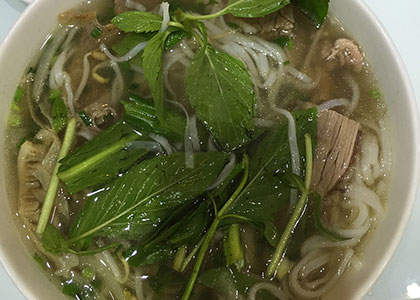 Pho - Rice Noodles and Meat
As cute as the name sounds, this dish is pronounced as "fuh'' and has some of the healthiest ingredients assembled in a perfect bowl. This noodle soup can be eaten at any time of the day, it consists of light chicken, pork, or beef broth flavored with fresh herbs served with flat rice noodles and garnished with spring onion, sliver meat, and coriander. You can consider it as a celebrity dish because it's also the national dish of Vietnam.
2. Rau Muong

This dish is prepared by stir-frying the weed with some seasoned garlic chunks and then served hot. Some people often call it a river weed but it doesn't make any changes to people who prefer eating this delicious dish anyway.
3. Banh Xeo
If you're looking for a cheap and filling dish which is tasty as well, then you should go for Banh Xeo. This dish is a Vietnamese pancake that is prepared with shrimp, pork, bean sprouts, and some eggs. This mixture is fried and wrapped in a rice paper and served with a fish sauce to enhance the flavors.
4. Cha Ca

Side Dishes of Cha Ca
Seafood can be considered one of the specialties of Vietnamese cuisines. This dish is so famous that there is an entire street in the capital dedicated to this dish. Cha ca is made with white fish, seasoned and sautéed with butter, dill, and spring onions. This main dish is served with rice noodles and garnished with peanuts.
5. Cao Lau
This dish is a specialty of Central Vietnam, Hoi An serves some of the best bowl of Cao Lau. The ingredients are pretty simple but it will leave an unforgettable taste in your mouth. A bowl of Cao Lau is assembled with thick rice-flour noodles, a light broth flavored with mint, bean sprouts, and pork-rind croutons. Finally, it is topped with pork slices, and sprinkled with crispy rice paper.
6. Bun Cha
This dish is highly preferred by the Vietnamese and served across the city in almost every street corner. The pork is barbecued and laid down on top of cold rice noodles with some assorted foliage and a heated broth.
7. Goi Cuon


Goi Cuon, Vietnamese Food
If you love spring rolls, then this translucent piece packed with herbs and minced meat will take your heart away. Goi Cuon is prepared with a tasty stuffing of minced pork, shrimp, beef wrapped up with star fruit and green banana slices. This roll is then dunked in a thick peanut sauce, be prepared to be amazed because this dish is tastier than it sounds.
8. Banh Khot
These Vietnamese pancakes consist of the same ingredients as the rest, but it differs in size. This pancake can fit in a perfect bite. The flavors are overwhelming, coconut milk is used to create a crunchy outside and stuffed with regular shrimp, mung beans, spring onion and dusted with some fresh herbs and shrimp flakes.
9. Nom Hoa Chuoi
If you are up for some large bowl of the green mix, then you must try Mon hoa chuoi. This dish is prepared with banana flower leaves, mixed with some sliced green papaya, carrots, and cilantro. This mixture then gets a huge pour of a salty fish sauce dressing, some chicken and then garnished with crunchy peanuts.
10. Bot Chien
If there's a dish in Vietnam that is fit for all age groups then it is Bot Chien. It is perfect for after school snacks as well as for a grown-up crowd. The dish is prepared after frying chunks of flour dough until it turns crisp. An egg is added to enhance the flavor and this combination is then served with papaya slices, shallots, and some sprinkle of green onions.
After these delicious Vietnamese cuisines, your verbal tour will be incomplete if we don't mention some of the famous beverages of Vietnam. To summarize it simply, let's give you nine famous yet remarkable beverages that you can try.
1. Dừa Tươi (Fresh Coconut)

Fresh Coconut
Perfectly natural and a century-old popular drink in Vietnam
2. Sinh Tố (Fruit Smoothie)
There is a wide range of smoothies to be found in entire region, it is mostly made with seasonal fruits, like mango, coconut, strawberries, dragon fruit, etc.
3. Nước Mía (Sugar Cane Juice)
This fresh beverage is the key to refreshment.
4. Nước Sâm (Herbal Tea)
This nutty drink is a perfect blend of herbal tea with ice and a few other herbs.
5. Trà Atisô (Artichoke Tea)

Medicated Wine, Vietnam
You can also call this as a hangover or detoxifying drink, it's quite famous around Vietnam.
6. Soda Chanh (Lime Soda)
It's a drink prepared at home. This fizzy mix is perfect for a steamy day.
7. Bia (Beer)
Who wouldn't enjoy a chilled beer on a hot sunny day?
8. Rượu Nếp Cẩm (Sticky Rice Wine)
This drink contains 29.5% alcohol, and it's widely preferred by the crowd.
9. Cà Phê (Coffee)

Vietnam Drip Coffee
Coffee is superior to any of these drinks in Vietnam. They are the largest producer of Robusta Coffee, specifically found in Vietnam. You won't cross a block and not notice someone enjoying coffee on the streets.
Food and drinks are a very important part of any culture, and their flavors play a major role in categorizing its attractions. Surprisingly, Vietnamese cuisine is famous for its diverse food practices and incredible dishes to start with. Tourists are often surprised with the easy blend of ingredients that gives out so many flavors. If you want to enjoy unforgettable cuisines and take home some memories of tasty dishes, then Vietnam is the place to start.
You May Like:
Try Authentic Vietnam Street Food
Is Vietnam Best for Connoisseurs Craving South Asian Food?
Vietnam Culinary Tours that Reveal the Spirit of the Country