Is Vietnam Best for Connoisseurs Craving South Asian Food?
There is no doubt about the fact that Vietnam is considered to offer less oily and healthy food in all of Southeast Asia. Vietnam has some of the famous dishes prepared with fresh herbs, and healthy broth that retains the delicious taste and nutrients of the food. However, this is not the only reason why Vietnam is famous for its appetizing food. They also have a very unique style of using the ingredients and preparing their daily food.
Even though, the taste of the food slightly differs from South Vietnam to North and Central Vietnam. It still doesn't fail to surprise the tourists with its extraordinary usage of ingredients. To give you a very brief idea about why people think of Vietnam first when South Asia food is mentioned, you can take a look at some key commodities and culinary focus of their cuisine.
Classic Ingredients of Vietnamese Cuisine
Simple ingredients of South Asian food often make a dish extraordinary. Something similar can be said about these ingredients that Vietnam constantly uses to treat the taste buds of every food lover. These are some of the common ingredients used in Vietnamese food.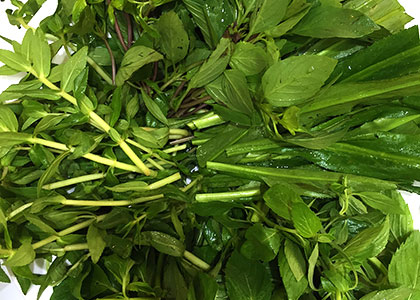 Fresh Herbs
• Rice noodles
• Coconut milk
• Fish sauce
• Hot chili pepper
• Fresh herbs
• Lemongrass
• Fresh fruits
• Vegetables
• Dried shrimps
• Fish
• Beans
• Peanut
However, out of this long list of ingredients, four major items are largely used in Vietnamese cuisine. These ingredients make most of the food taste extremely different than any other South Asian Food.
Key Commodities in Vietnamese Food
Peanuts

Fresh Fruits and Vegetables
Undoubtedly, peanuts make a major part of South Asian foods and Vietnamese exactly know how to use this nutty ingredient. In Vietnam, peanuts are chopped, grounded and blended to add into the dishes in any form possible. It is even used as a garnish for many dishes.
Bananas
In this region of the world, bananas are found in many forms and hence it's used in sweet and savory dishes. Sometimes, dishes prepared with unripe bananas are cooked and served as the main cuisine. Ripe bananas are used in preparing the custard, smoothies, and other refreshing drinks, snacks and desserts across the country.
Rice
Rice is a staple food in most of the Asian countries. This staple food marks the utmost importance in their daily life. It is not just used as a main course but also in a lot of side dishes, wraps, desserts, fermented drinks, etc. Rice wine is quite famous in Vietnam; it is also an important part of the wedding ceremony. Newlyweds are sometimes showered with rice as a symbol of prosperity.
Coconut
Yet another very important ingredient of South Asian food, coconut is very useful in every possible way. Coconut milk is used in cooking broth, preparing desserts, and in many other sauces. Coconut oil is another essential part of Vietnam's cooking. The vital usage of coconut is carried out through the country in all parts of Vietnam. It is used with hot chilies to help balance the spicy hit in the food.
Vietnamese Cooking Method
The method of cooking also plays an important part in enhancing or degrading the flavors. Vietnam amidst all the South Asian countries follows a blend of cooking and brewing method. The very common practices of cooking include

Fried Squid
• Simmering
• Steaming
• Broiling
• Stir-frying
• Deep-frying
• Boiling
• Braising
• Grilling
Out of these, grilling the meat, fish, and beans are pretty common. There is a very fine difference that makes Vietnam special from other countries, and that is their style of cooking. The cooking is carried out in a traditional style to withhold the flavors and nutrients. The variety of food is prepared by marinating the meat and grilling them over medium-high heat. Vietnamese often uses traditional pots to boil broth and strew.
Five Culinary Focus of Vietnam
Yet another reminder of how cooking is not just a task but an art, Vietnamese follow a very unique way of preparing ingredients that makes the food taste incredibly tasty and healthy at the same time. They make sure the cooking retains natural goodness; the practice of layering flavors, textures and cooking in a low heat temperature brings out a harmonizing flavor without destroying food nutrients. Here are some common practices used in the Vietnamese cooking method to make their food taste as distinct as possible.
Fish Sauce and Oyster Sauce (nuoc mam)

Vietnam Rice Noodles and Fried Snacks
Fish sauces are often prepared by small family producers; it's used in almost every cuisine. In some as a side dip and some as a base sauce, anyhow the dishes get their delicious flavors from the fermented fish and salt sauce. Oyster sauce is a thick oyster extract often served with seafood, rolls, and wraps.
Bean Sauce (tuong hot)
Bean sauce has a very sharp and lasting taste in the mouth and it is often prepared by crushed fermented soybeans. The final products are used as a sauce dip, in seasoning stir-fries, cooked with vinegar, purred with onions and also used in sticky rice. Bean sauce is also used as a garnish with some crushed peanuts.
Hoisin Sauce (sot tuong)
This sauce is prepared with soybean puree along with five other spices. This mixture is often used in dipping sauces, stir-fries, and most specifically in serving salads with the famous national dish called Pho.
Ground Chili Paste (tuong ot toi)
This is another important condiment that is prepared with a mixture of ground red chilies, vinegar, and garlic. This sauce is mostly used in garnishing noodles and rice dishes.
Rice Vermicelli (bun)
It's a dried small rice ball with a stick which is used as in making noodle salads and soups. It's a very fragile ingredient and requires very less cooking time as compared to traditional noodles.
These unique practices are what make Vietnam one of the best countries in preparing South Asian Food. Nothing beats the traditional style and ancient practices of cooking; another thing that makes people want to visit this country over and over again is not just food, but the hospitality of the people. You would want to pull out a stool and sit down for a cup of coffee on the streets. Vietnam will not fail to amaze you at every step of the way, which is why it has earned the name for itself.
You May Like:
Food Tour of Vietnam to Make Every Blogger Envy
Try Authentic Vietnam Street Food