Food Tour of Vietnam to Make Every Blogger Envy
Summarizing a food tour of Vietnam in words is like trying to shrink a Genie into the lamp. It's challenging, and very hard to pick a few delicious delicacies out of so many. Vietnam is very famous for offering some of the tastiest and healthiest food in southern Asia. They play with the unique hit of hot, sweet, sour, and savories flavors. We will try to collect as many culinary gems as possible to give you a unique yet comprehensive view of Vietnamese food.
Let's get you started with the best food the following five cities have to offer, and a compact list of beverages you shouldn't miss while you're in Vietnam. It is difficult to give preference to one city over the other when it comes to exploring the best culinary places in Vietnam but you can get the most authentic taste of the nation at: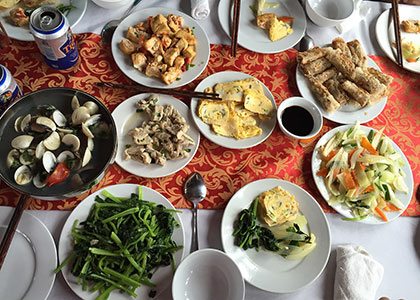 Vietnamese Hearty Dishes
1. Hanoi
2. Sapa
3. Hoi An
4. Hue
5. Ho Chi Minh (Saigon)
Editor's Pick
You should keep a note of three dishes that are absolutely must to try in Vietnam. First, let's list that down for you
• Pho –National Dish of Vietnam
• Vietnamese Baguette
• Bun Cha
1. Hanoi
A food tour of Vietnam in Hanoi must be done in a street style. Prepare yourself to walk on every corner of the streets and hustle to try new flavors that each one of them has to offer. It's easy to list some famous dishes of Hanoi, and you should be keen to look through the mainstream shops and get to the best in town. A friendly talk with the locals can get you a long way. Check these dishes out:
• Cha ca (Turmeric Fish with Dill)
• Mien xao luon (Glass noodles with fried eel)
• Bun thang (Rice vermicelli with chicken, egg, and pork)
• Banh cuon (Rice paper rolls, stuffed with chicken, shrimp, or pork)
• Xoi xeo ( Sweet sticky rice)
• Banh Goi (Fried dumplings)
2. Sapa
Sapa has amazing cold weather and taking a food tour is the best way to keep yourself warm. The misty mountains are worth exploring, the food is hard to resist because it is mostly cooked in the open air. The sizzling food atmosphere will make it hard to not try some of their delicious cuisines. Make a note of this list of food to try in Sapa:
• Thang Co (Horsemeat stew cook with 12 spices)
• Cap Nach pork (Roasted pig)
• Pau play day cake (Glutinous rice balls filled with green peas)
• Salmon sour hotpot (combination vegetable and freshly caught salmon)
• Bamboo sticky rice (Sticky rice stuffed in small bamboos)
• Brook fish ( Fish cooked in the charcoal fire)
3. Hoi An

Baguette Sandwich
Hoi An is a UNESCO World Heritage Site city and most of the famous cuisines can be found here. Food tour of Vietnam in this city is brilliant in terms of the fresh green herbs, meat, spices, rich broth, and healthy style of cooking. You can taste delicious food in riverside stalls and Vietnamese restaurants. Some of the famous dishes are:
• Banh bao vac (white rose dumplings)
• Cao Lau (Chinese barbecued pork with greens)
• Com ga ( Chicken Rice)
• Bun dau mam tom (deep-fried tofu, thin rice noodles, cucumber, fresh herbs with shrimp paste sauce)
• Mi Quang ( Turmeric Rice noodles with greens)
• Banh mi (Baguette sandwich)
4. Hue
Hue serves some of the royal food that was served to royal families back in the days of the Nguyen Dynasty. But now you will be able to taste those dishes in local restaurants as well as in street stalls. The flavors in Hue are a little different than other cities in Vietnam. Hue Cuisines are sweet and spicy and has a lot of flavor of lemon grass, fresh herbs, and chilies. Here are some dishes to try:
• Nem lui ( kebab made of beef and pork)
• Bun bo hue ( Beef noodle soup)
• Com hen ( Clam rice)
• Banh khoai ( Savory snack)
• Banh beo (Steamed rice cake)
• Banh loc goi (tapioca starch dumplings)
5. Ho Chi Minh (Saigon)

Delicate Taste Shrimp
Once again this city will keep you stunned with its variety of street food. You will not stay hungry for long when you are in Ho Chi Minh for the food tour of Vietnam. They serve thinner and sweeter dishes than the north region. You will be spoilt with choices when you walk down the streets of HCMC. Make sure you have a mindset to taste the best before you run out of enthusiasm for trying new dishes. Here are some of the dishes you should try when you are in HCMC:
• Banh Mi ( Ho Chi Minh style local sandwich)
• Bun Mam ( Vietnamese gumbo)
• Goi Cuon ( Pork, prawn and vegetable wrap)
• Cang cua oc ( Barbequed crab claws and snails)
• Banh xeo (savory cake)
• Com Tam ( Wholesome appetizer)
Seven must-try beverages
Who would not love a refreshing drink in the middle of all the munching and tasting? This list of seven beverages will keep you asking for more:
1. Nuoc mia ( Fresh sugarcane juice)
2. Nuoc dua ( Fresh coconut water)
3. Ruou nep cam ( Sticky rice wine)
4. Tra Atiso ( Artichoke tea)
5. Bia hoi Hanoi ( Local draught beer in Hanoi)
6. Ca Phe Sua Da (Condensed milk coffee)
7. Ca Phe Trung (Egg Coffee) Ummm, if you dare to try something new, then go for it.
These cuisines are served with a balance of spices, fresh herbs, rich meat, healthy broth, and a lot of love. A food tour of Vietnam will not only leave a different taste in your mouth but very memorable moments when you communicate with the locals.
Vietnam, the food heaven, will give you everlasting memories. You will remember eating in local food joints on top of the mountains and most of all, the warm-hearted people. Happy food journey!
See More:

Try Authentic Vietnam Street Food
Vietnam Tour for Connoisseurs Craving South Asian Food
Exploring Vietnamese Culture beyond Cuisines