7 Reasons to Visit Vietnam
Vietnam is a beautiful country, with a stunning landscape and diverse culture. A backpacker's paradise, Vietnam is a solo traveler's ideal destination. But, family vacationers can also have a great time in this culturally diverse nation. With surprisingly stunning beaches, a beautiful tapestry of green steeps, ancient monuments, and even a demilitarized zone, Vietnam is a fascinating country to explore.
If you are looking for reasons to visit Vietnam, then here are a few of them that make traveling through the country a rewarding experience.
1. The Serene Landscape
The natural beauty of Vietnam is intoxicating and is, therefore, the first of the many reasons to visit Vietnam. From the northern highlands to southern beaches, the country has a diverse landscape filled with deltas, river plains, terraced steeps, a desert, and so much more in between.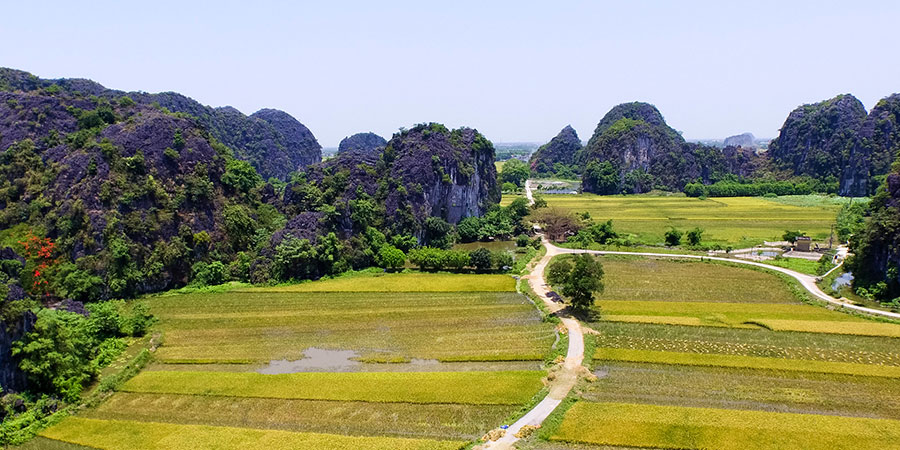 Vietnam Terraced Steeps in Ninh Binh
You will find a stark change in weather and culture as you move along the country. The limestone (karst) landscape close to Ha Long Bay in the north and the White and Red Sand Dunes of Central Vietnam attract tourists from every corner of the world. In the Southern part of the country, along the Mekong River or Delta, one can find vast vegetation including luscious rice paddies and fruits orchards.
Overall, Vietnam is blessed by nature, and tourists like you can find something extraordinary in its every corner.
See More: 10 Best Vietnam Holiday Destinations

2. A Diverse History
Although in the 20th century the world mostly remembers the country due to the Vietnam War, not many are aware of the fact this nation is the home to one of the oldest civilizations of South East Asia. Vietnam's history dates back to 2000 BC, starting from the Dong Son dynasty. The country had active trading relationships with the rest of the world, including India, China, and France – and these foreign nations have influenced the history of Vietnam.

Ho Chi Minh City Museum
The country is proud of its history and has established several museums and memorials in its honor. War memorials at Ho Chi Minh City (HCMC) like
Cu Chi Tunnels
or the War Remnants Museum focus on Vietnam's struggle for independence. Former French government establishments like Hoa Lo Prison or the infamous Hanoi Hilton reflects how French colonists treated the Vietnamese.
These places are a treasure trove of knowledge, and surely one of the prime reasons to visit Vietnam for a war historian.
See More: Top 10 Vietnam Museums That Tells the Tales of the Nation

3. Exotic Culture
Vietnamese culture is very diverse and unique, thanks to its dynamic hill tribes, throbbing megacities, and foreign influences. The country is well-known for its rich heritage, and it manifests itself in so many ways.

Temple at Hoan Kiem Lake
Want to explore architectural marvels? Visit the temples at Hoan Kiem Lake of Hanoi or the beautiful Tan Ky House at Hoi An that has a streak of Japanese influence. The Vietnamese Water Puppet Show at the Thang Long Theatre of Hanoi is something very offbeat and a must-try for every tourist.
Festivals are important to Vietnamese, especially Tet (Vietnamese New Year) or Perfume Pagoda Festival, and they celebrate with love and enthusiasm.
See More: Exploring Vietnamese Culture
4. Foods That Will Make You Drool
While talking about reasons to visit Vietnam, food becomes an important pointer. The street food of Hanoi or HCMC is delightful, and one of the major tourist's attractions. You will find a food stall lined with plastic stool in every street corner. Just take your ordered dishes, sit over the stools, and enjoy hearty street stars while observing the hectic traffic of Vietnam.

Vietnamese Food
Some of the must-try street food delights include pho (pronounced as Fu), Vietnamese spring rolls, banh mi, and rice noodle soups. The cuisines found in the northern parts of Vietnam are milder in spices but do use aromatic black peppers. On the contrary, southern dishes are more colorful, spicy, and use more ingredients. And, the Vietnamese food is incomplete without its sauces and side dressing.
See More: Food Tour of Vietnam
5. Coffee That Is Different yet Delightful
One of the biggest exporters of coffee in the world, Vietnam has an elaborate coffee culture. It is a contrast to the South Asian tea-drinking culture, and probably it was introduced by the French colonists. The aromatic and intense Ca Phe, as the locals call it, includes some offbeat ingredients like yogurt, coconut, eggs, and so much more.

Vietnamese Drip Coffee
Hanoi is the leader of Vietnamese coffee culture, with modern cafes popping up in every corner of the city. But to taste the real caffeinated flavors of Vietnam, you must visit the old sidewalk cafes.
6. Adventurous Extravaganza
Have you heard about Sandboarding in Dubai or Nairobi? Well, not many are aware of it, but Vietnam has a small streak of the desert area in its heartland and the region is a popular adventure sports venue. The Red and White Sand Dunes close to Mui Ne have frequently visited thrill-seekers. Apart from Sandboarding, you can go for quad biking. Besides these, adventure junkies can head to Ha Long Bay for kayaking or cave climbing at Son Doong Caves of Phong Nha-Kẻ Bàng National Park.

Colorful Son Doong Caves
See More: The Ultimate List for Adventure Tourism in Vietnam
7. Easy on the Pocket
The low cost per experience is probably one of the most significant reason to visit Vietnam. A small 15-day trip, will not burn a hole in your pocket. The major cities can be accessed through busses, trains and budget airlines. The availability of budget hotels and cheap street food is surely another brownie point in favor of Vietnam.

A Comfortable and Cheap Hotel in Vietnam
Some pre-planning and early bookings can save you a substantial amount of money, and a lot of hassle.
Lastly, Stunning Vietnam with its beautiful landscape, delicious cuisines, and remarkable cultural intricacies will surely mesmerize you. Do remember to shop for ethnic items, like dresses, earrings, and brocade borders from the local markets. Or, get yourself a suit speed-tailored by the dressmakers of Hoi An. They deliver the items within a day!
Vietnam is a land of infinite opportunities, making this country mesmerizing, adventurous, and exotic. The food, the culture, and its diverse history will surely pique your interest. Vietnamese are friendly hosts, and they are the reason why the nation is called the 'land of endless smiles'.
So, what are you waiting for? Book your tickets, pack your bags, and get going.
You May Like:
Why Vietnam Is the Perfect Homestay Destination?
How to Spend 7 Days in Vietnam?