Sri Lanka Weather
3-Day Weather Forecast of Major Cities
Sri-Jayawardenapura-Kotte
Sri Lanka Climate & Weather Facts
Climatic Zone:

Tropical Monsoon Climate Zone

Climatic Features:

Hot all year round; affected greatly by the monsoon; two distinct season


Average Temperature:

22℃ - 29℃ (72℉ - 84℉)

Warmest Month:

April; Hottest City: Anuradhapura: 33℃ (91.4℉)


Coolest Month:

September; Coldest City: Anuradhapura: 21℃ (69.8℉)

What is the weather like in Sri Lanka?


Sri Lanka has two distinct seasons of dry and rainy because of the monsoon influence. There are two monsoon seasons: May-August and November-February. The former is influenced by the south-western monsoon and during this time, tourists could choose the northern and east coast regions to play. The second rainy season is influenced by the north-eastern monsoon; people who travel to Sri Lanka in this time could visit western, south coast and central mountain areas. The peak season of Sri Lanka is between September and October; because people can expect the dry and cool weather. But in general, Sri Lanka is suitable for travelling all year round as long as you choose the proper destinations in given month.

Best Time to Visit: September to October

Sri Lanka Seasons - Temperature & Clothing Guide
Dry Season

September - October; March - April

Temperature: 23-30℃(73.4-86℉); 22-32℃(71.6-89.6℉)
Clothes to Wear: shirt, dress, sunhat

Rainy Season

May - August; November - February

Temperature: 23-31℃(73.4-87.8℉); 21-30℃(69.8-86℉)
Clothes to Wear: shirt, skirt, rain gears

Monthly Weather of Srilanka - Temperature & Rainfall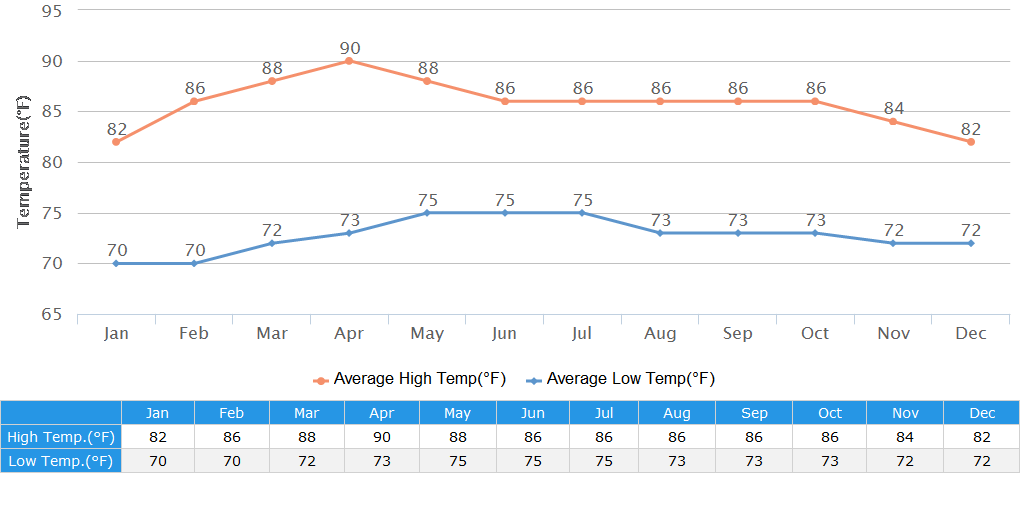 Regional Weather of Sri Lanka

Northern and Eastern Region

Major Destinations: Jaffna, Batticaloa

Weather Review: Northern and eastern areas enter the dry season from April to September due to the south-west monsoon. During December to March, these areas are influenced by the north-east monsoon, which could cause inconvenience to your trip.

Travel Recommendation: The weather is pleasant with sunny days and fresh air, so it is a good time to visit cultural relics.

Western, South Coast and Central Mounrain Region

Major Destinations: Colombo, Anuradhapura, Galle, Kandy

Weather Review: The dry season covers from December to March, which is a great time to travel to these areas with beautiful scenery. From April to September, The central areas expect the large rainfall, unsuitable for travelling. Many western beaches experience stormy conditions that you need to consider others places to go.

Travel Recommendation: Many beaches are at their most popular of the year, so you should book your accommodation in advance.

See also: Colombo Weather