Sri Lanka Travel Guide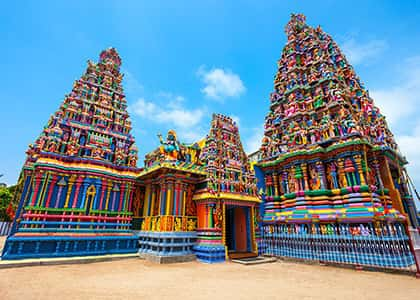 Sri Lanka
Basic Facts of Sri Lanka
Area: 25,330 sq mi (65,610 sq km)
Population: about 21,444,000
Location: South Asia
Capital: Colombo
Currency: Rupee
Time Zone: UTC+5:30
Language: Sinhala, Tamil, English
Administrative Division: 9 provinces, 25 districts
Religions and Beliefs: Buddhism, Hinduism
National Flower: Nil Mahanel (Blue Water Lily)
Country Description
The Democratic Socialist Republic of Sri Lanka, officially Sri Lanka for short, is previously known as Ceylon and located on Indian Ocean in South Asia. Meaning "land of happiness" or "rich land" in Sinhalese, Sri Lanka is praised as the "Kingdom of Jewelry" and a "Pearl on India Ocean". It was also regarded as the most beautiful island by Marco Polo, the famous tourist and merchant from Italy. Sri Lanka, rich in tourism resources, boasts eight world heritage sites, charming beaches, mysterious religions, abundant animal and plant resources, hospitable residents, cheap products and unique exotic culture. Besides, this country is particularly famous for jewels and black tea. More and more people are attracted here for a visit.
There are many things to do when visiting Sri Lanka, such as visiting the famous historical sites and museums to explore its unique culture, walking along the beautiful beach to see the sunrise and sunset, tasting the well-known Ceylon black tea, experiencing the marine train which was the prototype of the marine train appearing in the famous animated movie - Spirited Away. When going there, visitors can also purchase some jewels.

Horton Plains National Park, the important ecotourism area and world natural heritage in Sri Lanka, is the only national park in the country which allows tourists to journey on foot. Located between the feet of the second and the third highest peaks, Horton Plains covered by the primitive meadows is home to various kinds of wild animals. This is a great place to roam around and enjoy beautiful natural scenery.
| | |
| --- | --- |
| Beautiful View of Bentota Beach | Sigiriya Lion Rock Fortress |
Sigiriya Lion Rock is a hanging palace built on a giant orange rock, which was like a giant lion. It took 18 years to complete this famous palace, but only the body of the giant lion can be seen today. Also, when walking along the spiral stairs, tourists are able to see the well-know mural of "angelic girl". After reaching the summit, they can see the panorama of the vast land shrouded in the glows of sunset.
Located to the north of Kandy Lake, Temple of Tooth Relic is well known to the world because tooth of Sakyamuni, the most important Buddhism relics, is housed inside. In every July and August, the Esala Perahera is celebrated there. Fire dancers, musicians, and a herd of elephants decorated with all kinds of gold and silver pendants will march in parade. As one of the grandest Buddhism festival in the world, thousands of Buddhists and tourists from all parts of the world come here for a visit.
The best time to visit the west region, south beaches, and central mountainous areas of Sri Lanka is from December to the next March, especially before or after the Christmas Day. As the country is hot all year around, this period belongs to its peak season for tourism and a large number of tourists come here to escape from coldness and get relaxed. Relatively speaking, April to September is the best time to visit the historical sites in east and north regions. The country welcomes another peak season in July and August as the Esala Perahera is held during this period.
3-Day Weather Forecast of Major Cities
Sri-Jayawardenapura-Kotte
Read More: Sri Lanka Weather, Colombo Weather
Tourists can enter Sri Lanka by flight. About 30 kilometers (18.6 miles) from the city center of Colombo, Bandaranaike International Airport has direct flights to/from India, Thailand, Hong Kong, Dubai, Australia, Malaysia and Singapore, etc. Hambantota International Airport is a newly built airport located in Mattala. Currently, only few air routes to/from Thailand, Beijing, Riyadh, Jeddah and Male are available. When traveling around Sri Lanka, visitors can travel by train, long-distance bus, private bus, taxi, chartered vehicle and rickshaw. Train and long-distance bus are the most common ways to travel around the country. Chartered vehicle is the most comfortable way, but it costs more. Taxi and rickshaw are convenient for those who travel around a city.
1. There are strict rules on alcohol. Don't drink alcohol on the streets casually, or you may be fined. Only some restaurants allow tourists to drink alcohol. Please confirm before drinking.
2. Visitors should ask permission first if they want to take photos with monks.
3. Tourists need to take off shoes first when entering Buddhism scenic areas. Besides, dress properly. Photo taking is not allowed in temples.
4. Don't use left hands to eat food or pass something as the locals think left hands are dirty.
5. Don't talk about Sri Lanka politics in public.
6. There are many Muslim restaurants in the country where alcoholic beverage is not provided. Tourists need to notice that when ordering meals.
History
The history of Sri Lanka started since the 6th century BC when Prince Vijava from the north India came to the west coast and established the first dynasty called the Kingdom of Tambapanni. After that, the country has experienced many changes. Since the beginning of the 16th century, Sri Lanka was successively governed by Portugal and Netherlands and became an important trade center in South Asia. Since then, this country was known as Ceylon. By the end of the 18th century, Ceylon became the colony of British Empire, which lasted for a long time. Not until 1948 did Ceylon achieve independence. In 1972, Ceylon renamed itself Sri Lanka. Afterwards, the country has gone through the civil war for up to 30 years and gained peace in 2009.
Geographical Features
The pear-shaped Sri Lanka island is high in the middle and low on the edge. It has highlands in the south central area. Mount Pidurutalagala with an altitude of 2,524 meters (8,281 feet) is the highest point in the country. Plains at an average altitude of 150 meters (492 feet) are scattered in the coastal areas, while plains along the north coastal area are vast, and plains in the south and west coastal areas relatively narrow.