Ochheuteal Beach
The beach at Ochheuteal is one of the oldest and most explored beaches in Cambodia. Previously it was known as UNTAC Beach in the early 1990s'. One of the reasons for which Ochheuteal beach has been the favorite of tourists for decades is that it is surrounded by upscale hotels, to laid back dining options. It also has more than enough budget bars at the beach and nearby accommodation facilities such as bungalows, hotels, and resorts.
The beach is mainly lined with small vendors selling seaside food and drinks. You can have less space to swim, but you would be lucky to find a place to chill. Beach chairs and garden umbrellas are a common sight here. You can hire a couple of them with your friends and enjoy a laid back breeze of the ocean.
Here we will give you all the details about how to reach a place to stay at and activities to do in and around the Ochheuteal beach. Make your tour rewarding by knowing the prerequisites with us.
Things to do in Ochheuteal Beach
While you are an ocean lover, you must be aligned that there is nothing much to do at the seaside rather than admiring nature. Here at Ochheuteal beach, you can hire a grass umbrella and take a sunbath while you order a few drinks from one of the beach stalls. If you are willing to take a dip into the water, then you have all the options to do so. When accompanied by your family, let your little ones play in the white sand beaches. Ochheuteal beaches is long and as you walk towards the northern end of the beach, you might reach to Serendipity Beach. If you love sports like golf, then this is the destination for you. There is a newly developed golf course in this area. You can enjoy the game while you can still view the ocean in front of you.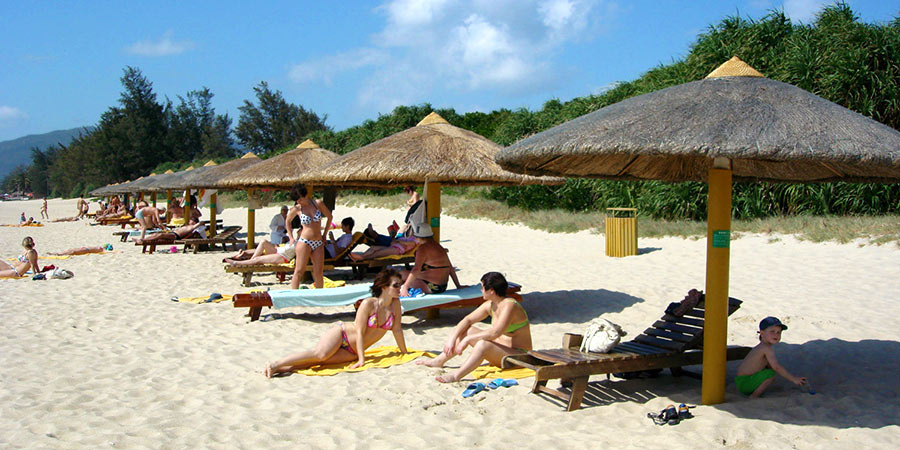 Take a sunbath under the rented Straw Umbrella
Visit the Casinos is a must
When you are in Ochheuteal Beach, you cannot miss the excitement of visiting a casino. The place is a house for casinos, and you will surely find one at your nearest location. This is the reason why Cambodia is called the Las Vegas of Asia as well. So if you have had a willingness to visit a casino and play a Rummy but unable to go to Las Vegas, then Cambodia must be your ideal destination.
Read More: Sihanoukville Casinos - Cambodia's Las Vegas
Places to stay in Ochheuteal Beach.
Ochheuteal beach offers exotic hotels that are located at the prime location of the area. The best-known hotels of Ochheuteal beach are Seaside, crystal, Sea Breeze resort, Spayhiti, Moonlight, Saha Beach resort, are just to name a few. There are hotels and resorts available for every taste and preference. While you are traveling with family, you can choose a more comfortable and personal setting. In case you are traveling with friends and are open to making new friends on the go, then there are a few options for that as well.
The best part of Cambodia is that even luxury comes in a budget. You can find hotels from $10, and the most expensive stay will cost you not more than $140 per night. So you have a lot of variety to choose from. Try and read more reviews and the type of services they provide and room quality before you finally book.
It is recommended to book a hotel before you travel to Ochheuteal Beach. Otherwise, you may unnecessarily lose time and energy in finalizing a stay of your choice.
Read More: Sokha Beach Resort
How to reach Ochheuteal Beach from Sihanoukville airport?
The distance from the Sihanoukville airport to Ochheuteal Beach is 24.5 km (15 mi). It takes around 55 minutes to commute between the two destinations.
However, there is not much confusion regarding the gates of the airport as the options are limited. You can take a
TukTuk
or a
taxi
ride to Ochheuteal beach.
You can book a taxi inside the airport at their booth. The difference is, you will have a smoother experience than that outside the airport. They also offer a taxi booking facility at the airport even before you arrive at Sihanoukville. All you have to do is book a taxi online. You can book a cab online before 3 hours of the scheduled journey. It will take charge of $25 per taxi.
The airport also offers TukTuk at a price of nearly $15 for the whole TukTuk. But if you are coming in a group, it is preferable to hire a taxi ride. Taxis are available for shared rides at $5 per person. You can also hire a taxi for your own at around $20-25.
Timings:
• Suggested visit time: 2-3 hours
• Visiting hours: 5 a.m. to 11: 30 p.m.
• Should visit at 7 p.m.
• Should leave before 8:30 p.m.
Tips
1. It is advisable not to go out during the night hours.
2. If you love to taste exquisite liquors, then you must give it a second thought in Cambodia. Some of the local alcoholic drink can be strong enough to faint you for a few hours as well.
You May Like: