Nubian Museum
The popularly visited Nubian Museum is situated opposite to the Basma Hotel. It is an exhibition of the documents; art and way of life of Nubia and for all the tourists who especially visit
Aswan
, exploring the museum is a must. The museum was built in 1997 in collaboration with UNESCO, and the museum is a reminder of what was lost below Lake Nasser. Exhibits are superbly presented in large rooms, where real ancient writing is the reasons that carry you from 4,500 BC.
Important Details
24 photos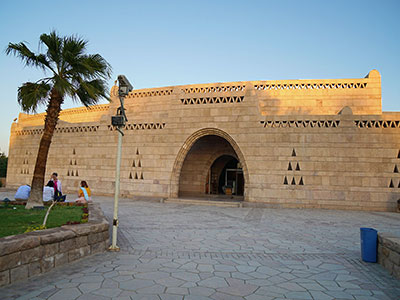 • Address: Nubian Museum, el Fanadek Street (Opposite Basma Hotel), 81111, Aswan
• Timing: 09:00 am - 01:00 pm
• Best time to visit the museum: 09:00 am - 01:00 pm
• Duration of visit: 02:00 Hrs
• Price: adult - LE100 / student - LE50
Interesting Numbers You Should Know
The overall size of the building is 10,110 square feet, with a floor space of 7,000 square meters (75,347 sq. ft.) on a site of 50,000 square meters (538,196 sq. ft.). The proposal consists of two sections: a museum building in one dimension and a landscaped outdoor display. The house consists of three storeys, and you will love exploring every inch of it.
What to See in Nubian Museum?
The Nubia Museum has a collection of nearly 3,000 antiques from various eras, including the Pharaonic, Coptic and Islamic eras. The most important collections in this museum are a pair of silver bracelets; a bone comb with two giraffes engraved on it; a Paleolithic axe; a children's robe from Fatimid period (968-1070); and a 6000-year-old painted pottery bowl. The first floor of the exhibition hall displays some ancient Nubian sarcophagus and quartzite statues; the second floor mainly introduces the Nubian culture and the splendid civilization based on various pictures, and also narrates the deeds of rescuing Nubian cultural relics during the construction of Aswan High Dam.

In addition, Nubian Museum constructed the model of Nubian Village, and collected numerous Nubian handicrafts, such as silver pendants and anklets, which are the products of integration with different historical periods. Apart from that, the garden in the museum is also a highlight. There are about 80 statues of ancient Nubian gods and historical rocks, as well as some artificial lakes and waterfalls.
Facilities inside the Museum

The main entrance hall is situated on the ground floor, shops, temporary exhibition hall, VIP lounge and corresponding service areas; it also has a 150-seat lecture hall with three translation booths, security, workers living quarters, public toilets, administration offices, amenities area, and lifts for guests, employees and utilities. You will also find a cafeteria on the first floor, a meeting room, and administration office, library, and more. This is like a wonderful island for geeks. Outside the theatre, there are the restoration studios with five laboratories. The lab has some of the most remarkable items like the papyrus and fabric, organic, inorganic, and metal.
The Surrounding
The Nubian Museum was built on a tall mountain that allows it to represent the full-scale architecture of the
Nile River
from its beginnings in Ethiopia and Sudan to Egypt. The building is surrounded by the Natural Botanical Garden, which includes a wide range of Egyptian flora.
The Nubian Museum in Aswan supports the Nubian Archaeology, Culture Research, Documentation Center, and History as well as the UNESCO International Campaign materials. You will love this place if you love history and unfolding ancient archeological treasures.
How to reach?
We are going to give you three easiest mode of transportation to reach the Nubian Museum. We would like to start with saying, exclude the bus journey when you are planning to visit the Nubian Museum; it is hectic, expensive and stupid.
Closest Train Station
- Aswan Train Station
Closest Bus Stand
- Aswan Bus Stand
By Train

Cairo - Aswan
13h 5m by Train, every 2 hours
(47.18 EGP- 139.40EGP)

Aswan- Nubian Museum
3 min by taxi (3.1 km)
(7.51 EGP- 10.0EGP)
By Taxi
Taxi from Cairo to Nubian Museum
One-Way: 10h 59m-852.6 km
It can get expensive, might reach up to 1501.24EGP
Drive
Drive from Cairo to Nubian Museum
10h 59m- 852.6 km
Approximate fuel cost: (450.37EGP- 664.84EGP)
Read more about Aswan Transportation