Phnom Tamao Wildlife Rescue Center – Cambodia's Largest Zoo
Phnom Penh is a highly populated city in Cambodia. It is a perfect tourist destination if you have a keen interest in history and exquisite archaeology. You will be able to treat your gourmet, with delicacies, indulge in shopping and soak yourself in the Cambodian history.
There are many activities that you can do when you are in Phnom Penh. But do make sure to visit the Phnom Tamao Wildlife Rescue Center. Trust us! You will never regret the visit. You will fall in love with the serenity of nature as well as the variety of animals and birds there.
Phnom Tamao Wildlife Rescue Center
Phnom Tamao Wildlife Rescue Center (PTWRC) is one of the best wildlife centers of Cambodia. It is around 25 miles away from Phnom Penh. It has an area of about 6,000 acres. Phnom Tamao Wildlife Rescue Center is undoubtedly the largest zoo in entire Cambodia.
Cambodian Forestry Administration together with an environment-friendly NGO, Wildlife Alliance, run the PTWRC. The NGO has veterinarians, caretakers and animal husbandry specialists who take care of all the animals. They help in operations and treatment of the animals, too.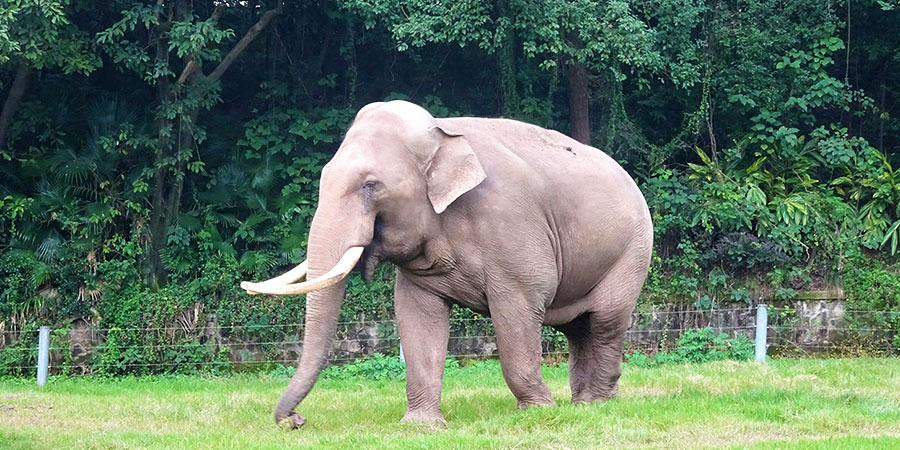 Elephant in Tamao Wildlife Rescue Center
Wildlife Rapid Rescue Team rescues the animals from illegal wildlife trade. Wildlife Alliance, the NGO, takes the responsibility of relocating and rehabilitating these animals.
Phnom Tamao Wildlife Rescue Center is like a safe haven for rescued animals like elephants, gibbons, tigers, sun bears, lions, ginormous pythons, and deer and so on. The Wildlife Rapid Rescue Team has rescued these from poachers or abusive owners. Wildlife Alliance also ensures about a healthy breeding schedule for these animals and birds. Breeding is essential so as to prevent the endangered animals from being extinct.
PTWRC has been working since the year 1995. It has garnered appreciation and praises from several international organizations as well as national associations.
Attractions for the Tourists
PTWRC is all about protecting the abandoned and endangered creatures. If you have a knack for nature's beauty and at the same time you are compassionate about animals, then Phnom Tamao Wildlife Rescue Center is the perfect destination for you to visit.
There are about 1,200 animals in the rescue center. Siamese crocodiles, Malayan sun bears, tigers and elephants from Asia are special attractions of this place. Phnom Tamao Wildlife Rescue Center is the perfect option for a wildlife adventure interactively.
About 20,000 tourists visit Phnom Tamao Wildlife Rescue Center each year. They get a glimpse of how the Cambodian government is making endeavors to protect these animal species. The charges you pay go towards the maintenance of these animals. In PTWRC, the animals are getting an opportunity to live peacefully, away from any life threats.
Why Should You Sit the Phnom Tamao Wildlife Rescue Center?
Do not commit the mistake of excluding PTWRC from your itinerary, as you will definitely miss out on one of the most enthralling experiences of life. Following are the reasons as to why you should not give a miss to the trip to Phnom Tamao Wildlife Rescue Center:
1. Peaceful Ambience
The rescue center has a serene ambience. It is not hugely crowded like other zoos. You will never feel as if it is the original habitat of these animals. They own this place. They will not seem to be on display. The silences, tranquility, lack of noise and crowd will make your heart calm and peaceful.
2. Not a Zoo
Well, Phnom Tamao Wildlife Rescue Center is not a zoo in its actual sense. Usually, the zoo creates an artificial set up for the animals, far from their natural habitats and climate. But in PTWRC situation is different. All the animals belong to this land. This climate is suitable for them. PTWRC is not making money by putting these animals on display. They genuinely care for these animals and look after their well-being.
3. Wide Array of Animals
Tigers to near-extinct sun bears, albino deer to a three-legged elephant with a prosthetic leg, PTWRC is indeed a perfect place to visit for all the animal lovers.
4. Driving Around
You will be able to roam around the rescue center in a moped. You will save your time as well as your feet!
5. Cost-Effective
The entry fees, charges for food, snacks drinks or bananas for monkeys, everything is so cheap here. You will be able to enjoy the whole day in PTWRC, and it won't feel heavy on your pocket.
How to Reach PTWRC?
To reach PTWRC, which is about 42 km (26.1 miles) away from Phnom Penh International Airport, you can hire:
• Tuk-tuk: $30 (Return Trip Included)
• Taxi: $40 (Return Trip Included)
• Rented cars: $40-$50 per day (up to 8 hours)
Key Details
• Entry fee: US$ 150
• Visiting Hours: 8 a.m. to 5 p.m.
• Visiting days: Open on all days
• Pro tip: Try to book an arranged trip along with a guide who will make you understand about every single detail. The staffs at Phnom Tamao Wildlife Rescue Center do not speak English.
The above-given details will make your journey a smooth one. If you love to explore the stunning beauty of nature and at the same time love the company of wild animals, then go, visit this fantastic animal rescue center. This will be an once-in-a-lifetime experience for you.
See Also:
3 Best Elephant Sanctuaries in Cambodia to Visit
Virachey National Park is home to umpteen tropical flora and endangered fauna including gibbons, great hornbills...