Koh Rong Island - A guide to Cambodia's Unexploited Island
Have you ever been to Koh Rong Island? It is located near the coast of Sihanoukville, Cambodia, and is very famous for its outstanding beauty. Tourists describe the serene beauty of this Island as paradise, and it offers an amazing experience to them. One can find pristine white sandy beaches along with a tropical hot climate and ocean waters that are as clear as crystals.
Plan for a trip to the place since it is one of the most amazing places and is famous for its mesmerizing beauty. Koh Rong is still an underdeveloped Island but offers several things, and you will have fun beyond expectations.
About Koh Rong Island
Koh Rong is one of the most famous destinations among families, groups of friends, and couples as well. The Lonely Beach is the main tourist beach that attracts a lot of tourists all over the year. It also has one of the most vibrant party atmospheres with several night clubs situated all around. You will find numerous hotels and bars to have an amazing stay at Koh Rong Island. It is one of the less busy beaches and is hence quieter than others.
Koh Rong Island has several spectacular destinations to visit that include beaches, party atmosphere, etc. Long Set Beach and Palm Beach are the best destinations to relax and have an incredible time.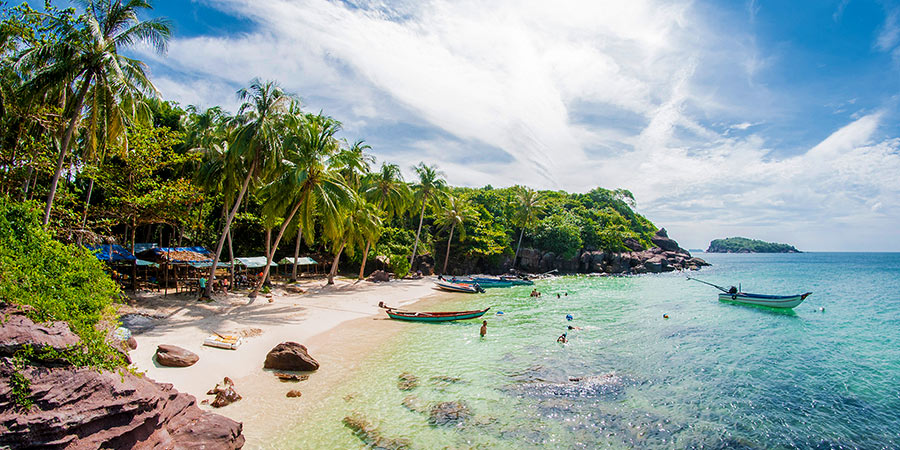 Great Relaxing Environment on Koh Rong Island
Four village communities are also found on Koh Rong. They are the Koh Touch, Daem Thkov, Prek Svay, and Sok San. A major source of earning for the people is fishing, and they are also indulged in selling some small scale crops. In 2019, the place experienced more tourist businesses than in residential homes.
Best Time to visit Koh Rong
The best time to visit Koh Rong Island is from the mid of November to the starting of May. During this period, the place experiences less humidity with a hot climate and little cloudy weather. The temperature of the place during this time period is wonderful and ranges between (25°C - 40°C). These months are warm and dry months and are best preferred by the tourists.
Generally, weather patterns of this place are consistent over time, and it majorly depends on the wind directions. Dry season experiences direct and more sunlight compared to the rainy season.
Things to do at Koh Rong Beach
Tourists enjoy several fun-filled activities and sports at the Koh Rong Beach. There are so many adventures available at the place that you will not know-how your whole day went by. You get numerous things to see and do. Explore the most pristine beaches all around and have the most mesmerizing views of sunrise and sunset. You can also enjoy the exotic marine life of this Island by opting for snorkeling or scuba diving. There are several different kinds of marine animals found under the sea, and you will experience one of the best views underwater.
Witness beautiful fishes, glowing planktons, etc. on the fantastic fishing trips. You can also take boat tours, and jungle walks to explore more about the place and see different animals that live in there. Koh Rong also has the facilities of Jet Skiing, WindS urfing, etc.
Where to Stay in Koh Rong
Finding the best destination at Koh Rong Island is very difficult, with a huge number of options available when it comes to accommodations. Since the Island is very big, there are a plethora of options available that ranges from guest houses, luxury resorts, bungalows, etc. This place has almost 30+ beaches, and all different accommodation options are scattered around the place. Book according to your preferred choice and budget.
Poisonous Snakes
This is not something that should scare the tourists as the locals take great care of the snakes found on Koh Rong Island. Koh Rong is home to several poisonous snakes, and a lot of them are found roaming here and there. They include Cobra, Malayan Pit Viper, White-Lipped Pit Viper, Russel's Viper, Banded Krait.
Koh Rong Island is very big and pets several snakes in the jungle. 99% of snakes are found in the jungle. Hence, you should pay great attention if you choose to walk to the bungalow through the forests, or are out to take a stroll around.
How to reach Koh Rong Island?
You can reach the islands by using fast ferries. The main faster ferries companies available include Island Speed Boat, Speed Ferry Cambodia, Buva Sea, GTVC, and Angkor Speed Ferry. The ride generally takes 40 minutes to 1 hour to reach the destination, and the time taken may increase depending on the halts taken in between.
The five companies charge nearly the same fare from each person. They roughly charge $25, though the price range may vary depending on the time of the year, tourist pressure, special offers, etc. While returning, they are available from the pier from which you arrived at the destination, and they go back to the Ochheuteal pier in Sihanoukville.
You May Like:
5 Best Cambodia Islands for Your Next Holiday