Japan Travel Guide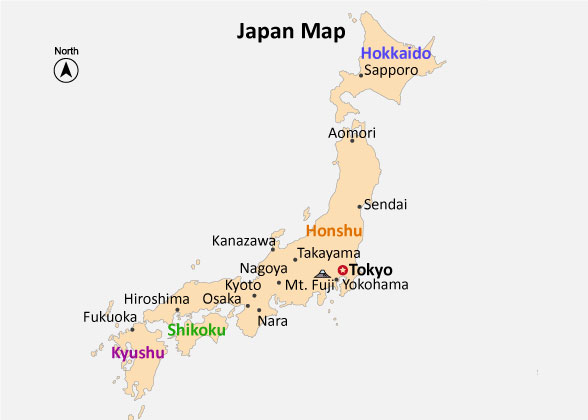 Map of Japan
Basic Facts of Japan

Area: 377,972 square kilometers (145,936 square miles)

Location: East Asia

Population: 125 million

Language: Japanese

Currency: Japanese Yen

Time Zone: UTC+9

Capital: Tokyo

Administrative Division: Tokyo, Hokkaido, Osaka, Kyoto and 43 prefectures

Religions and Beliefs: Buddhism and Shinto
In Japan, the highlights include cherry blossoms, hot springs, snowy mountains, shrines, islands and nerd culture. With the integration of modern and traditional culture, you can enjoy the prosperous metropolis of Tokyo, feast your eyes on the quiet and magnificent Mount Fuji, and taste the classical melodies of Kyoto.
Read More:

Top 10 Unmissable Places to Visit in Japan

8 Most Beautiful Places in Japan


6 Best Honeymoon Destinations in Japan

5 Special Things to Do in Japan Only


10 Cool Things to Do for Kids in Japan

Best Winter Destinations in Japan
See more attractions in Japan:

Kyoto Attractions

Tokyo Attractions
Trip Planning
Japan is Asia's most fashionable and modern country with a wide range of humanistic and natural landscapes, enabling you to experience the unparalleled charm of the East. Apart from the must-visit Mount Fuji, you can add Tokyo area or Osaka and Kyoto to your tour. Having longer time, you can travel to both the two regions, and even add Hiroshima, Nagoya, Takayama or more places for an in-depth tour in Japan.
Japan is a hot tourist destination through the four seasons, but spring and autumn are the best time to visit. Visitors can appreciate the cherry blossoms from March to May and the red leaves from September to November, in the mildly pleasant weather in most places of Japan.
3-Day Weather Forecast of Major Cities
Tourists can easily get to Japan by flight. The country has a few international airports, respectively in Tokyo, Osaka, and Nagoya. Sapporo, Fukuoka and Okinawa, etc. also have flights from neighboring countries. They can also go there by ferry ship from China and South Korea.

The domestic transportation is very well-developed. Flights, JR lines, bullet trains, trams, subways, highway buses and taxies can take you around the country. Subway is the best choice inside a city because it's convenient and cheap.
Japanese greet each other with bows instead of handshakes.
If someone makes a bow to you, you can nod and smile to response.
Take off your shoes before entering a room.
It's not necessary to give tips because the service charge is included on the bill.
Tap water is potable so you don't have to buy bottle water.
The voltage is 110v and you are advised to take a plug adapter.
Japanese Food
Japan has a wide variety of food and snacks with fine preparation, nutrition and culinary aesthetics. Japanese cooking is both regional and seasonal, and tasting local flavors becomes an essential part of travel. Famous sushi, sashimi, miso soup, tempura, Japanese noodles like ramen, udon and soba noodles, okonomiyaki, Japanese curry rice, sukiyaki, Kobe beef, takoyaki, dorayaki, etc. are all unmissable.
Geographical Features
Japan consists of four large islands of Hokkaido, Honshu, Shikoku, Kyushu and other 7,200 small islands. It is a mountainous island country, as mountains and hills account for 71% of the total area and most mountains are volcanoes. Mount Fuji is the highest peak in Japan, 3,776 meters (about 12,388 feet) in height.