Our Insights
Currency Exchange
In Japan, most hotels and shops accept credit cards, including American Express, VISA, Diners Club and MasterCard, and some also support electronic payment through PayPay, Line Pay, Apple Pay, or Pasmo or Suica Card. However, there are some places where you can only use cash, especially in small towns.
It is recommended that you exchange a proper amount of Japanese yen in your home country before you travel. If you haven't done so and want to change money at the airport, the following locations are for your reference.
Automatic currency purchasing machine (24 hours) and banks (6:30-23:00) in Tokyo Narita Airport:
Terminal 1: Central Bldg., 1st Floor (Arrivals); South Wing, 1st Floor (Arrivals)
Terminal 2: Main Bldg., 1st Floor (Arrivals)
Terminal3: Main Bldg., 2nd Floor; Main Bldg., 1st Floor
Currency exchange (24 hours) at Tokyo Haneda Airport:
Terminal 3: Mizuho Bank on 2nd Floor (International Arrivals)
►
Tips on Exchange Rate from Our Travel Experts
Try to get the cash you need for the trip in Tokyo, as the exchange rates are lower in other cities. However, you'd better not change too much money at the airport because the exchange rate there is not good.
According to our expert's field survey on March 6th, 2023:
1. The automatic money exchange machines at the airport have the worst rate at JPY 119 to USD 1, while the bank counters at the airport are better at 134 to USD 1.
2. The money exchange machines at the hotels are also not recommended, JPY 119 to USD 1.
3. The exchange rates are the best in some currency exchange shops in downtown Tokyo, where USD 1 can buy JPY 135, or even JPY 136 if you are exchanging more than JPY 100,000. The ones in Shinjuku are highly recommended. Outside the Exit D3 of Shinjuku Nishiguchi subway station, you can find a dozen money exchange shops, and compare the rates by yourself. Please mark this address to find them:
1 Chome-2-12 Nishishinjuku, Shinjuku City, Tokyo 160-0023
Or you can search 'Ninja Money Exchange' or 'ACCESS TICKET Shinjuku Nishiguchi' on your mobile map app to get the exact location.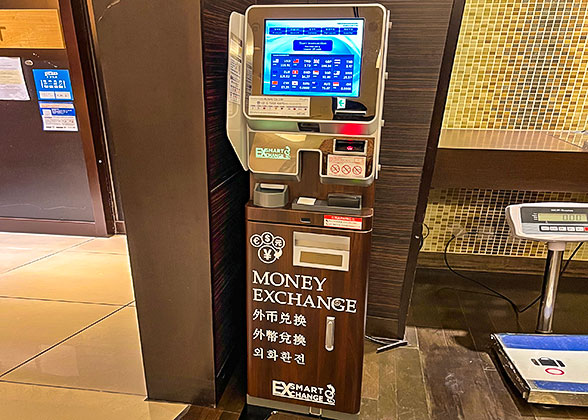 Money Exchange Machine at Airport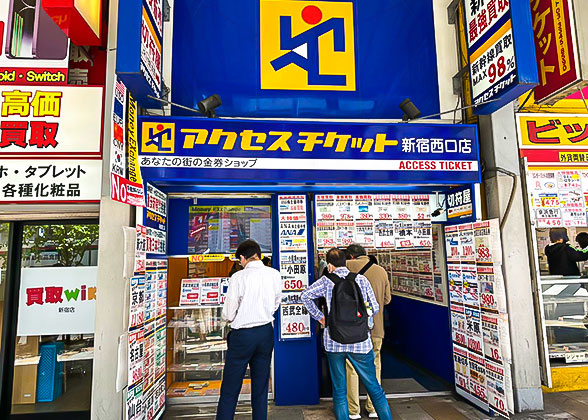 Money Exchange Shop at Shinjuku
Japan Transportation in Brief
Taxis are expensive in Japan. For example, a taxi from Tokyo's Narita Airport to the city center, about 70 km (43 mi), costs about USD 200, while the heavy traffic congestion in the urban centers also makes taxi fares soar, and sometimes not quickly to travel among the attractions. If you don't mind paying extra, then a taxi or private car is a good option. If you want to save some transportation costs, the developed public transportation system consisting of railways and buses is very convenient and affordable. Just choose according to your needs and budget.
From the airports to your hotel, there are many compromise options, such as shared shuttle and airport limousine bus, considering that you carry luggage and it is inconvenient to walk and transfer. For getting around a city, Japan's well-developed public transportation is highly recommended, especially the rail transit which connects airports, business districts and scenic spots. For intercity travel, we will take distance, time efficiency and cost into consideration to choose the Shinkansen train or flight for you.
►
Suica Card & Eco-friendly Travel by Public Transport
In order to improve travel efficiency, lessen emissions, and save travel costs for you, we strongly recommend you to travel with us in a low-carbon way, and thank you for your contribution to nature conservation! When you arrive at your first hotel in Japan, you will receive a Suica Card sent by us, an IC card that has been charged with money to cover the public transport costs included in your itinerary. For the following trip, you can simply swipe your card when our guide takes you to the subway, tram, bus and other public vehicles. Tickets for intercity trains in your itinerary have been already reserved and stored in this card. Please keep it properly. In addition, the Suica Card can also be used in convenience stores and vending machines throughout Japan. Please note that if you use the card to make additional purchases, you will need to recharge it to complete the entire trip, but don't top up too much, as the card is not refundable outside Tokyo. Just charge an appropriate amount if you need, and try to use up the balance on this trip. You can take the Suica Card as a souvenir when you leave Japan for home.
Things to Know on Luggage
1. Be sure to pack light: We kindly remind you that you need to walk with luggage if traveling by public transport from your hotel to the train station or airport, which would be difficult especially on some crowded or stepped roads.
2. Be aware of baggage restrictions: The international flights and Japan's Shinkansen trains have restrictions on oversized luggage. A suitcase with total dimensions of no more than 160 cm can be carried directly on the train while a luggage with total dimensions between 160 and 250 cm requires a reservation.
3. Luggage drop-offs at train stations: At some train stations, there are self-service lock box for travelers to store their luggage for a short time and then return to the station to pick up their luggage after a round trip to the city.
4. Luggage delivery service: This is a great service for international travelers with large bags, which allows you to pack a small bag with things you'll need for the next day or two and check other large bags to save energy. If you want to deliver your luggage to the next or third city, please tell our guide to arrange it for you and pay the delivery fee on site.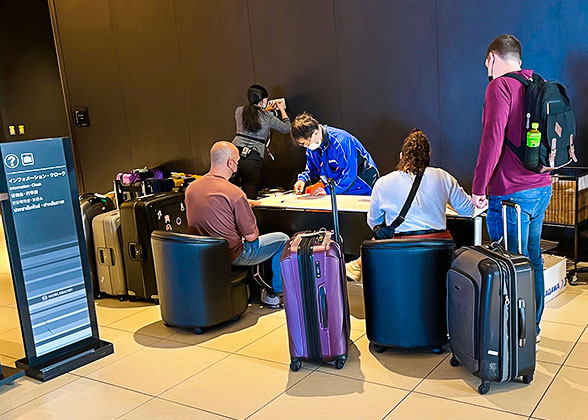 Cloak at Hotel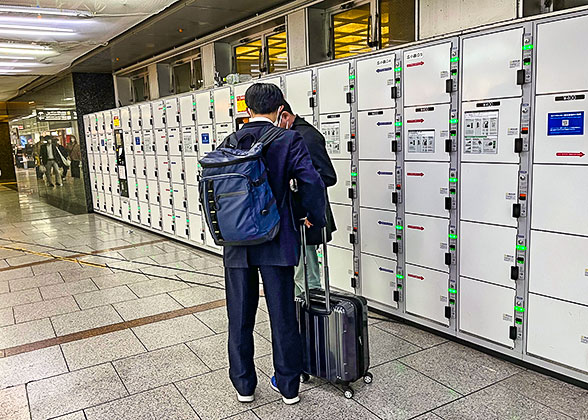 Left Luggage at Train Station