Angkor Thom
It is the last and perhaps the most prominent capital city of the Khmer Empire. King Jayavarman VII established Angkor Thom. You cannot ignore the exquisite Bayon Temple at the center of Angkor Thom. Travelers flock in large numbers to visit this place. Khmer people considered King Jayavarman VII as the groom during the Angkor Thom city as his bride.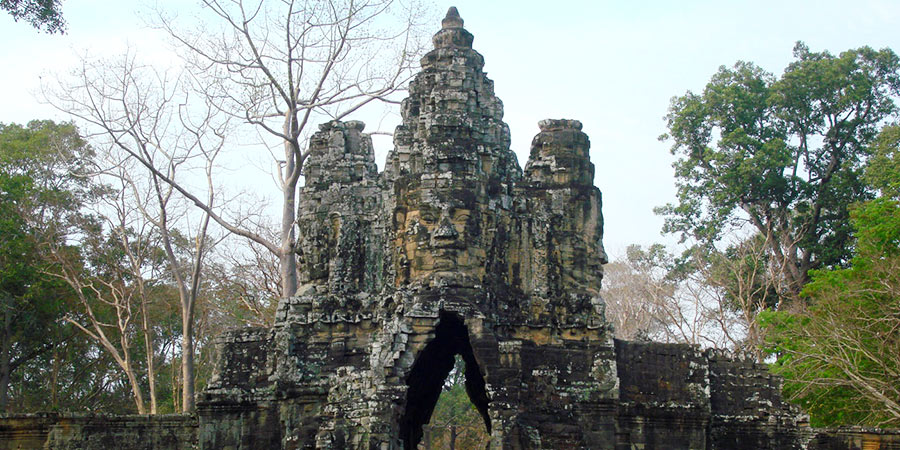 Angkor Thom - A must-see Archaeological Site
Read More:
Explore Khmer Civilization in Angkor National Museum
A Bit about Angkor
If you are thinking about vacationing in Cambodia, then you definitely need to add Angkor in your itinerary. It is perhaps the most significant archaeological site in Cambodia. Angkor stretches over an area of 400 km. sq. It is a UNESCO heritage site. There are several tourist spots to visit in Angkor. These are as follows:
UNESCO has taken the responsibility to safeguard these heritage sites of Angkor. Every year, around 2 million tourists visit Angkor. UNESCO is trying to keep these heritage sites free from the pressure of all those tourist visits.
See More: 10 Angkor Wat Facts How to Visit Angkor Wat
Unsearchable Wooden Structures
Angkor Thom was a fortified city where priests, officials, military, etc. used to reside. On those days, people made houses out of wood. However, with time, these wooden structures have almost perished. But the wooden structures are still testifying the greatness of Angkor Thom. Parts of the Royal Palace still exist. But there is no sign of the presence of royal buildings. This indicates the fact that maybe those were wooden structures.
See More: Angkor Wat Architecture
Temples of Angkor Thom
The most famous and notice worthy temples in Angkor Thom were Phimeanakas and Baphuons. Mangalartha was the last temple to be built in the year 1295 in Angkor Thom.
| | |
| --- | --- |
| Phimeanakas Temple | Baphuons Temple |
See More: What to See inside Angkor Wat
The Symbolic Value of Angkor Thom
If we go into symbolic details, Angkor Thom is like a perfect microcosm of the mighty universe. There are four parts. Bayon Temple stands at the exact center of the principal axes. It serves as a symbolic link between earth and heaven. There is a vast wall that encloses Angkor Thom. This wall signifies the stone wall around the universe or the mountain ranges around Meru. Earlier, there was a surrounding moat, which is dry now. This represents the cosmic ocean.
See More: Angkor Wat Significance
Layout of Angkor Thom
The city of Angkor Thom is square in shape. There is an 8-meter-high laterite wall around the city. Also, a moat was there, having a width of about 100 meters (328.1 feet). It used to surround the walled city of Angkor Thom. The specialty of the surrounding wall is the presence of Prasat Chrung at each corner of the walled city Angkor Thom. Prasat Chrung means a small temple.
See More: Angkor Wat Layout and Plan

Causeway Linked with Many Stone Figures
Causeway Full of Stone Figures
You will enter Angkor Thom through a long causeway. Lots of stone figures adorn the long causeway on both sides. There are fifty-four Gods on the left and fifty-four demons on the right of Angkor Thom. The difference in the appearance of the demons and the Gods is extremely visible. The stone figures of Gods adorn conical headdresses. They have almond-shaped eyes and look calm and serene. While the demons are wearing military headdresses and carry grimacing facial expressions.
Once you start entering the causeway, a serpent statue with nine heads will welcome you. It extends across the full length of the causeway. You can take it as a symbol of the rainbow uniting the worlds of the Gods and men.
Prasat Chrung
These are small sandstone temples. Here, the Khmer people used to worship Bodhisattva Avalokitesvara. You will be able to see the inscriptions on the wall of the temples, which declare King Jayavarman VII as the builder of these temples. The lotus-shaped top pluses the beauty of the temples. There are false windows and female figures too.
Entry Towers
Everyone who visited the walled city of Angkor Thom had to pass through these entry towers. These towers are elegantly built, with a lot of style and grandeur. There are a total of five entry towers in Angkor Thom. The height of each tower is about 23 meters (75.5 feet). There are four heads of the rulers on top of each tower.
You will marvel at the beauty of the lower half of each gate. They appear like an elephant with three heads. You can imagine their trunks as the pillars. Also, we can see Hindu god Indra sitting on the elephant with Apsaras on both sides. His stone figure has a thunderbolt in the lower left hand.
Read More: Angkor Thom South Gate
How to Reach Angkor Thom?
If you want to visit Angkor Thom, then take the direct flight to Bangkok. From there, direct flights are available for Siem Reap. Once you reach your hotel in Siem Reap, you can hire:
• Tuk-tuk
• E-bikes
• Cabs/Taxis
Distance & time from Siem Reap Airport to Angkor Thom:
9.2 km/19 minutes.
One can hire any of these to reach Angkor Thom. Taxi can cost you $20-$30 per day whereas tuk-tuk and e-bike will cost you $8-$12 per day.
Key Details of Angkor Thom
• Entry fees: $36.07
• Visiting hours: 5 a.m. – 6 p.m.
• Visiting days: All days open
• Pro tip: Buy your tickets a day before so that you can enter Angkor Thom early in the morning. This will enable you to enjoy the serene ambiance as well as click some fantastic pictures. Also, make sure to wear a comfortable pair of flats as you will have to walk a lot.
So, if you are coming to Cambodia in a vacation mood, make sure you visit Angkor Thom for enjoying the spiritual, aesthetic as well as the natural beauty of the place. You will miss out on something very significant if you do not visit this majestic city. If you are planning to visit Angkor Thom during your vacation in Cambodia, then do not forget to check the given vital details. These details will keep you sorted and give you a clear idea about the place. Also, the essential details will prove quite handy for all the interested travelers.
You May Like: