Thailand Travel Guide
Basic Facts of Thailand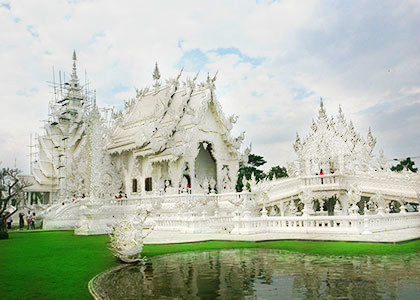 Wat Rong Khun, Thailand
Location: at the center of Indochina Peninsula, bordering Burma, Andaman Sea on the west and north, Laos on the northeast, Cambodia on the southeast; with long peninsula stretching into Malaysia in the south
Area: 513,120 sq km (198,120 sq mi)
Population: 68 million
Language: Thai
Currency: THB
Time Zone: UTC+7
Capital: Bangkok
Administrative Division: divided into 5 regions: the center, the south, the east, the north and the northeast with 76 provinces (changwat); Bangkok and Pattaya are specially-governed districts directly under the Central Government.
Religions and Beliefs: Theravada Buddhism
Thailand is a Buddhist nation with thousands of statues of Buddha throughout the country. It is famous for beautiful islands, delicious foods and special culture. It is very rich in tourism resources, with more than 500 tourist sites, mainly in Bangkok, Phuket, Pattaya, and Chiengmai. Besides, Chiang Rai, Hua Hin, and Koh Samui are growing fast and attracting more and more visitors.

Main attractions:
1. Bangkok: to enjoy shopping with all kinds of well-known brands, and feel the luxury of the royal and the magnificence of temples; with famous sites, such as Grand Palace and Temple of the Emerald Buddha (Wat Phra Kaew);
2. Phuket: to have a great moment on the sunny beaches along Andaman Sea; with popular islands, such as Similan Islands, and Ko Phi Phi;
| | |
| --- | --- |
| Wat Pho | Phuket Island |
3. Pattaya: to experience the open local culture; with various entertainments at night, such as music performance, Muay Thai performance, and Ladyboy Show;
4. Chiengmai: to visit temples in different sizes, watch Elephant Show, explore jungles and set off lanterns with millions of visitors during Loy Kra Thong Festival;

Besides, Thai Massage is very common in Bangkok and is really worth a try. It is said to be an important way to prevent disease
November to April is the best time to travel through Thailand. There are three seasons in all: hot season from March to May, rainy season from June to October, and cool season from November to February. November to next March is the high season since it's cool. Traveling during this period may give you the best tours in Thailand. The Songkran Festival is celebrated from April 13th to April 15th when tourists can have a great experience in Thailand New Year.
3-Day Weather Forecast of Major Cities
Read more: Thailand Weather, Bangkok Weather, Chiang Mai Weather

Bankok Suvarnabhumi International Airport
Transportation
Thailand is well-developed in aviation industry, with airports in many large and medium-sized cities. There are direct flights between Thailand and more than 30 cities in Asia, Europe, and Oceania. 7 main international airports are in Bangkok (2), Koh Samui, Phuket, Hat Yai, Chiengmai, and Sukhothai, while Bankok Suvarnabhumi International Airport plays the most important part in Thailand international flight service. In addition, there are also ship, train and coach service available between Thailand and Malaysia, due to geographical advantages. Tourists can also take a coach from Laos and Cambodia.

Inside the country, flight, train and coach can be chosen for intercity trips, while taxi, Tuk-tuk, and songthaew can be used for short trips. In Thailand, light rail and subway only exist in Bangkok.
1. It is courtesy to give tips to drivers, guides, waiters...
2. Show respect to monks and Buddha statues.
3. Thai people regard left hand as an unclean hand, so do not use it to pass on objects.
4. It is improper to show intimacy in public.
History
Thailand, once named Siam, is one of the oldest civilizations. The first unified kingdom in the country is the Sukhothai Kingdom built in 1238, followed by the Ayutthaya Dynasty, Thonburi Dynasty, and Bangkok Dynasty. When the first king of the Bangkok Dynasty went to the throne, he changed the capital to Bangkok and the Grand Palace was built at that time.
Geographical Features
Thailand can be divided into 5 regions geographically:
1. The north is mountainous area, with beautiful forest scenery. It is the coolest region throughout the country.
2. The northeast is highland. Influenced by Cambodia and Laos, it is rich in culture, history, and customs and festivals.
3. The east is island, with the famous tourist site, Pattaya.
4. The central is plain, and there are also criss-cross mountains and rivers. Bangkok, Hua Hin, Cha-am, and Ayutthaya are the famous destinations of this region.
5. Surrounded by Andaman Sea and Gulf of Thailand, the south is covered by beaches and islands, with world famous places of interest, such as Phuket, Koh Samui, Ko Phangan, and Koh Tao.