Comparison with Other Sellers
Stay in a hotel or a riad in Morocco?
As a part of Morocco's culture, riad is popular with many tourists for its unique charms. Thus when visiting Morocco, should you choose a standardized hotel or a Moroccan riad? We hope our following ideas and suggestions will help you make a choice.
●
Features:
Riad is a kind of boutique hotel in a fusion of modern and traditional elements, with a decoration style of its own, beautiful atrium and bubbling fountains. In the noisy medina, it allows you to enjoy peace in a riad, just like at an oasis in a desert. If you love taking photos, you can always find a spellbinding corner in riads.
●
Location:
Most riads are in the old quarter, which has both advantages and disadvantages. Since the old town is off-limits to vehicles mostly, you'll need to walk to your riad. Of course, the riad will take care of your baggage handling. Don't worry about that. On the contrary, star hotels, for the large area, are usually outside the old quarter; thus, you will be sent to the hotel by a vehicle directly.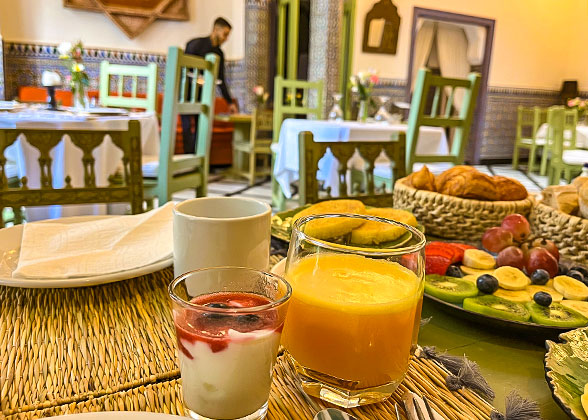 Set Menu Breakfast in Raid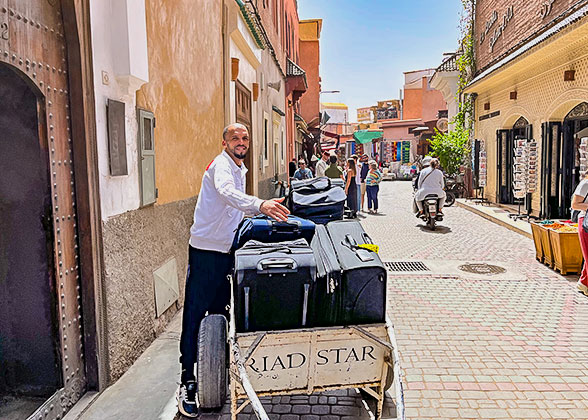 Luggage barrow in Old Medina
● Breakfast: A riad is not large, with 6 to 10 rooms on 2 or 3 floors commonly. Without many guests, there are set menus of a few choice for breakfast. In contrast, star hotels will provide sumptuous buffet breakfast every day, and a satisfying breakfast will make your day full of vitality!

● Elevator: Generally, riads are not high, so most of them are not equipped with elevators. Imagine that, you have to walk to the riad after a day out, and even worse, you have to climb stairs to your room...

● Sound Insulation: Compared to a hotel, we have to say that sound insulation is not very good in some riad rooms. If you have a relatively light sleep, pay special attention to this issue.

● Safety: Undoubtedly, no matter a riad or hotel, they are very safe. What we mention here is about the surroundings. If you have a penchant for taking a walk at evening or night, it's probably not a good idea to wander the maze of alleys in the old quarter at night! But it's much more relaxing to walk around the garden and pool of a hotel.

In short, the needs of guests always come first. It's our pleasure to customize an exclusive hotel arrangement for you.