Top Things to Do in Morocco
Top Places to Visit in Morocco
1. Casablanca
Casablanca is the biggest metropolis of Morocco and also one of the most important ports of North Africa. Most visitors enter Morocco through this gateway city. Casablanca refers to white houses in Spanish, and as its name suggests, you could see white buildings and constructions everywhere, especially the elegant mosques. With the azure sea as its backdrop, Casablanca is quite refreshing and pleasant for travel. The famous film Casablanca injects romantic air to the city, too.
Hassan II Mosque is the only mosque open to outsider tourists in Morocco. It is one of the most modernized mosque in the world, and the third largest after the Mecca and Medina mosques in scale. One third of the mosque is built on the sea, which is said to commemorate the Arab ancestors coming via the ocean. Hats and shoes are required to be removed for entry.
For tourists in Casablanca, you are highly recommended to pay a visit to the Rick Café, which totally restores the scene in the film Casablanca. Never miss the chance to enjoy a cup of coffee there, and probably take a few memorable pictures.
Other must-see attractions in Casablanca include Palais Royal de Casablanca which can only be visited from outside, Square of Mohammed V which is surrounded by many administrative buildings, Ain Diab Beach with great seeview, and Quartier Habbous where to observe the daily life of locals.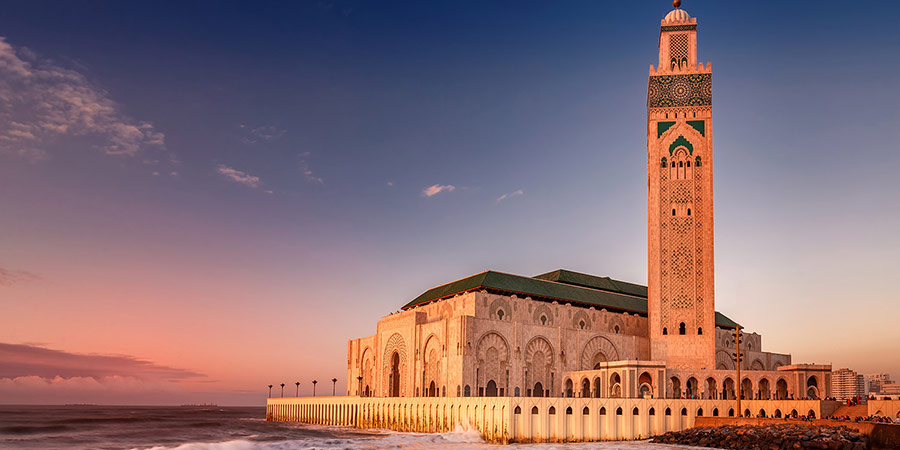 Hassan II Mosque: Largest Mosque in Morocco
2. Marrakech
Marrakech is, no doubt, the most popular destination among foreign travelers. Crowned as the City of Red, the city showcases its charms by blazing color of red. No matter the royal mansions like Badi Palace or common residences in old quarters, their walls are all in reddish hues. Marrakech boasts a lot of squares and markets for visitors to have a glimpse of local life and feel the beat of their customs.
Listed as a World Heritage Site, the Jemaa el-Fna is a city square with a far-reaching history of over 1,000 years. It is the soul of Marrakech where you could catch the vibrant local life in the open-air market. Multilingual vendors hawk around selling souvenirs and craftworks, and artists dressed in bizarre costumes steal attentions of tourists with their wonderful performances. It is the best site where you can see the history and culture as well as local life of the city.
Jardin Majorelle is a spectacular garden where most artists of Marrakech like to have gatherings. In the garden, various plants and flowers are scattered, while the houses and paths are also painted with bright colors. Wandering inside is just like venturing into a fairytale world.

Panoramic View of Marrakech
3. Rabat
As the capital city of Morocco, Rabat is nestled by the seafront of the Atlantic Ocean. Favorable climate and nice soft beaches make the city a good place to go for summer retreat. Meanwhile, as a centuries-old capital, Rabat is blessed with a lot of well-reserved historical monuments, from which one could recall its glorious past.
Kasbah of the Udayas is a must-see of the Rabat. As a shooting site of the film Mission Impossible 5, Kasbah of the Udayas was built in 12th century with typical Andalusian architecture style. The museum inside displays a great number of jewels, instruments and old costumes. The folk houses of Berbers are still remained for visitors to explore at leisure.
Chellah used to be Morocco's royal mausoleum of Marin Dynasty, while a big earthquake in the 18th century left them in ruins. Nowadays, Citadel of Chellah has become a green habitat for many wild animals, which is quite suitable for a relaxing walk.
4. Chefchaouene
Chefchaouene is a small but lovely city situated in a valley with very pleasant climate all year round. The city gives its visitors a real treat for eyes. All the walls, steps and gates are painted in azure blue, which makes it the world-famous Blue Town and also one of the most visited tourist cities of Morocco. It would be a great delight to stroll through the small town to discover the quaint houses, winding steps and picturesque gardens at a slow pace. It is also a superb destination to shop for handicrafts.
5. Fez
As the oldest religious center of Morocco, Fez is a charming city full of Islamic air. With a history of over 2,800 years, the sacred city Fez is left with plenty of religious heritages including exquisite mosques, royal palaces and old forts. The old town of the city is worth an exploration of the narrow alleyways lined with aged residences. Leather ware is the most important handicraft in morocco, so a visit to a tannery is always a must-do in Fez.
Chouara Tannery is one of the largest and best-known tanneries in Fez that allows tourists and shutterbugs to access inside. Dye jiggers of various colors pop out in the dye house, making it a fantastic photography site for local spectacles.

View of the Old Medina in Fez at Sunrise
6. Grand Sahara
An adventure into the mysterious Sahara is utterly an amazing travel experience in Morocco. You could ride a camel to explore the deep part of the desert and chase after the wonderful sunset. Gazing at the sky at a starry night would be a memory of a lifetime.

Camel Caravan Going through the Sand Dunes
7. Ait Ben Haddou
Perched on the way to Sahara, Ait Ben Haddou is reputed as the most beautiful village of Morocco. Originated from Middle Ages, the village boasts red-walled Islamic architectures, long and narrow lanes as well as archaic shops. As a living village listed as a UNESCO World Heritage Site, Ait Ben Haddou would reward its visitors an exotic experience like no other.

Amazing View of Kasbah Ait Ben Haddou
Must-Try Dishes
· Tagine
Tagine is the most popular food all over Morocco. It is a slowly simmered stew with beefs, chickens and vegetables like potatoes and peppers by unique earthenware pots. It usually tastes sweet and a bit spicy, which is definitely worth a try for foodies.
· Snails
Snails are the most delicious snack in Moroccan night market. They are usually boiled with a great number of seasonings and spices. It is cheap but very yummy.
· Couscous
Couscous is one of the most basic dishes in Arab cuisine, which is also the staple food for people in Morocco. Millet is usually stewed together with meats, potatoes and carrots.
· Barbecue
Arab countries are famous for their barbecues, so is Morocco. Lingering around the night market of Morocco, you could smell the scents of kebab everywhere. Entrails of animals are favored by local people, and you could take your courage to have a try.
· Seafood
Bordered by the Atlantic Ocean and the Mediterranean Sea, Morocco is a country rich in seafood. In coastal cities like Casablanca, Rabat, Tangier and Essaouira, you can drown yourself in abundant seafood.
Further Reading:
Morocco Transportation
Useful Travel Tips