Morocco Travel Guide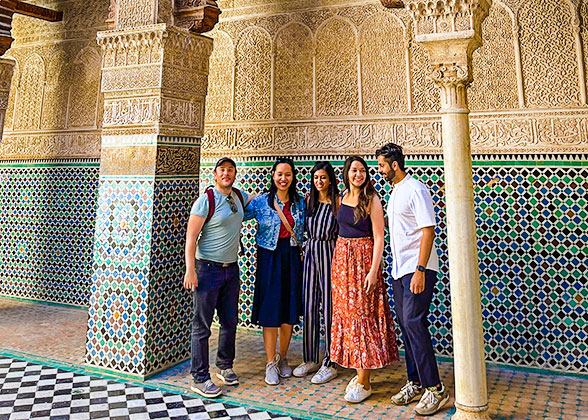 Morocco
Basic Facts of Morocco
Location: in the northwest of Africa
Area: 459,000 square km (177,220 square mi)
Population: 35.33 million up to 2017
Language: Arab
Currency: Dirham (MAD)
Time Zone: UTC+1
Capital: Rabat
Administrative Division: 16 regions subdivided into 62 prefectures and provinces
Religions and Beliefs: Islam and Christianity
Taking advantage of the Atlantic and Mediterranean, Morocco is endowed with enchanting sea views perfect for leisure travel. With a profound history of thousands of years, Morocco also retains plenty of historical monuments in Casablanca, Marrakech and Rabat. Adjacent to Sahara Desert to the south, Morocco also creates fabulous chances for visitors to explore the world's largest desert.

Casablanca: trace the classic film scene at Rick's Café and admire the grand Hassan II Mosque.
Marrakech: stroll on the bustling Jemaa el-Fna square to have a glimpse of local life.
Chefchaouen: venture into the dreamlike blue town to refresh your eyes and heart.
Fez: embark on a fantastic photography tour to one of the bright-colored tanneries in the old town.
Sahara: enjoy a camel ride in the vast Sahara and capture the Milk Way in the starry sky.
| | |
| --- | --- |
| Magnificent Hassan II Mosque in Casablanca | Camp Site with Tents in Sahara Desert |
Best Time to Visit Morocco
There are two periods perfect for a trip to Morocco. One is from middle March to middle June, and the other is from September to October. During these two periods, the temperature is mild and favorable, with more clear days, which is suitable for outdoor sightseeing.

From late June to early September, the country is going through its dry and hot summer. The desert is too scorching to be explored. Morocco's winter starts from October to the next March, which is the rainy season for the coastal areas. Meanwhile, a travel rush would come around Christmas and New Year in winter when the prices of accommodations and transportation would rise much.
Generally, it is convenient to travel to Morocco and travel around inside. There are direct flights to Morocco from most countries in Europe, Middle East, North America and West Africa. Casablanca is served as the busiest gateway city to enter the country. Besides, from Algeciras of Spain, there are a great number of ferries to Tangier every day. Trains and CTM buses are two dominant transport methods to travel around inside Morocco. You can move around among Tangier, Rabat, Casablanca, Fez and Marrakech by rail, while Chefchaouen could be reached by CTM bus from Tangier and Fez.
Morocco is a Muslim country, so female travelers are not advised to wear clothes unveiling their thighs, shoulders or midriff. Meanwhile, one shall have their hair covered by scarf and take off the shoes to enter a mosque. For a Sahara Desert tour, tourists need to apply to sunblock, sunglasses and hats to protect themselves from sunburn. If camping at night, one should wear layers as it is quite cold in the desert at night.
History
The earliest settled residents in Morocco were Berbers, and they survived from successive invasions from Phoenicians, Carthaginians, Romans, Vandals, and Byzantines. With the arrival of Arabs in 788 AD, an Islam kingdom was established. From late 15th to early 20th century, Morocco had been intruded by European countries including France and Spain. Since 1912, Morocco had become a French protectorate till it gained independence in 1956 and claimed to be the Kingdom of Morocco.
Geographical Features
Perched at the northwest end of Africa, Morocco is adjacent to Algeria to the east and Sahara Desert to the south as well as the vast Atlantic Ocean to the west. Facing Spain across the Strait of Gibraltar, Morocco is endowed with a costal line of more than 1,700 kilometers (1,050 miles). North Morocco is known as the North African Garden for its all-year-round pleasant climate, lush greens and picturesque floras in most places. Southern Morocco is connected to the Sahara desert, where most visitors would take an adventure to enjoy the camel riding, sand dunes, spectacular sunset and camping at starry nights.