Accommodation
Answer: We do not advise that you drink the tap water, even though some hotels may claim that their tap water is purified and safe.

Usually all rooms have a water heater or thermos and boiled water is available 24/7 free of charge. Bottled water is also available in stores and at street stalls.

Answer: Yes. All star-rated hotels have non-smoking rooms or floors. Guests who check in earliest usually have priority over those checking in later for the non-smoking rooms.

Answer: Yes. Star-rated hotels will usually provide cots for babies under 2 years old free of charge.

Answer: Hotels will provide wheelchairs for their registered guests free of charge but as there might not be sufficient chairs, they are assigned on a first arrival priority.

Answer: More and more hotels have internet access in guest rooms. If your hotel does not, the service is available at the hotel's business center. There is an extra charge.

Answer: Usually check in is after 14:00 (2 p.m.) and check out is before 12:00 noon, otherwise there might be extra charges. We can confirm these times when making your reservations.

parade.

Hotel Useful Terms - Room Categories
Single Room (Economic Room) ----- room with a single bed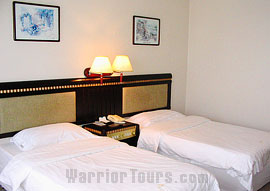 Double Room ----- room with one double bed
Twin Room (Standard Room) ----- room with two single beds
Triple Room ----- room with three beds
Superior Room ---- better than Standard Room, generally speaking, divided into two types, a double bed or two single beds.
Deluxe Room ---- bigger room than Superior one, with two single beds or one double bed. Decoration and facilities are better than in Superior Room; price is higher.

Executive Standard Room ----- room usually with one double bed. One or several floors in a star-rated hotel are taken as executive room floor(s). A business center and coffee bar are included.

Business Standard Room ----- room with two single beds or one double bed. Usually computer, secretarial services and other facilities for office work are included.

Suite -- two or more rooms with bathroom and other attached amenities. There are usually several kinds of suites offered, including superior and deluxe.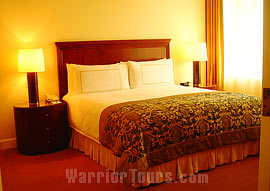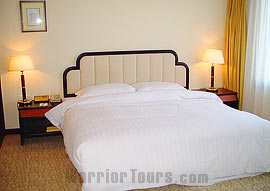 Room Type

Bed Equipment

Bed Size

Metric (meter)

Imperial (feet)

Single Room

One Queen Size Bed

1.5 * 2

4.9 * 6.6

Double Room

One King Size Bed

1.5 (1.8, 2 or 2.2) * 2

4.9 (5.9, 6.6 or 7.2) * 6.6

Twin Room

Two Single Beds

1.2 (1.35) * 2

3.9 (4.43) * 6.6