Beijing Introduction
Beijing, as the capital city of China, is the political and cultural center of the country. The city's history can be traced back to the earliest inhabitation by Beijing Man in prehistoric times, 700,000 years ago. The city's history as an imperial capital dates from the Spring and Autumn Period (770 B.C. - 476 B.C.). It served as the political and cultural center in the successive dynasties of Song, Yuan, Ming and Qing in China's long history and consequently gave rise to a great number of historical and cultural relics and antiquities. Many visitors from all over the world come to explore the splendid history of both the capital and the country.
Beijing Attractions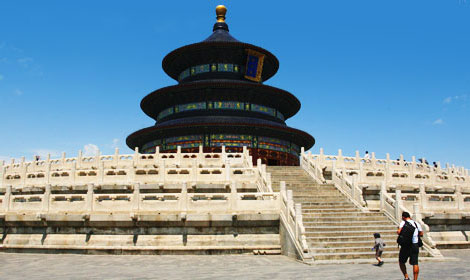 Take a Beijing tour is absolutely worthwhile! The Great Wall of China, the grandest ancient military fortification in the world, is a must for every traveler to China. The sections near Beijing are Badaling, Mutianyu and Jinshanling. The Forbidden City, a splendid complex of imperial palaces from China's Ming and Qing dynasties in the center of the city, shows the luxurious life of the Chinese emperors. Other imperial structures that are worth visiting include Summer Palace, Beihai Park and Temple of Heaven. Parks like Beihai Park and Grand View Garden are worthwhile visiting as well.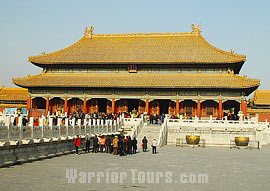 In addition to its historical wonders, Beijing's hutongs and courtyard complexes give visitors a feeling for the traditional daily life of the ordinary local people.
Beijing is a gourmand's paradise with a full range of delicious cuisines from different regions at home and abroad. Restaurants in the city provide everything including the well-known Roast Duck, the gourmet Imperial Court Cuisine, flavored Mongolia Hotpot and hundreds of local snacks. There are also numerous western food restaurants providing a range of American, Brazilian, French, German, Indian and other cuisines catering for those who miss their home dishes.
Today, it is becoming a sparkling metropolis with modern skyscrapers, shopping malls, efficient transport routes and numerous foreign investment enterprises.
Beijing Travel Toolkits
Useful Telephone
Emergency Services
110 .....................Police
119 .....................Fire
120..................... Ambulance
6525 5486 ...........Foreigners Section of the Beijing Public Security Bureau
6513 0828 ...........Tourist Hotline
6590 3419 ...........International SOS Assistance
Telephone Service
114 .....................Local Telephone Information
117 .....................Time Check
121 .....................Weather Information
6303 7131 ...........Post Code Check
Telephone Numbers of Airlines
| | | | |
| --- | --- | --- | --- |
| Capital Airport Information | Tel:6456 3604 | Air China | Tel:6601 7755 |
| China Eastern Airlines | Tel: 95530 | China Southern Airlines | Tel: 400669553 |
| FESCO Air Service | Tel:6505 3330 | Aeroflot | Tel:6500 2412 |
| All Nippon Airways | Tel:6505 3311 | Asiana Airlines | Tel:6468 1118 |
| Austrian Airlines | Tel:6462 2161 | British Airways | Tel:6512 4070 |
| Canadian Airlines | Tel:6468 2001 | Dragonair Hong Kong | Tel:6505 4343 |
| Finnair | Tel:6512 7180 | Garuda Indonesia | Tel:6505 2901 |
| Iran Air | Tel:6512 4940 | Israel Airlines | Tel:6597 4512 |
| Japan Airlines | Tel:6513 0888 | KLM Royal Dutch | Tel:6505 3505 |
| Korean Air | Tel:6505 0088 | Lufthansa | Tel:6465 4488 |
| Malaysia Airlines | Tel:6505 2681 | Mongolian Airlines | Tel:6507 9297 |
| Northwest Airlines | Tel:6505 3505 | Polish Airlines | Tel:6500 7215 |
| PIA | Tel:6505 1681 | Qantas | Tel:6467 4794 |
| SAS | Tel:6518 3738 | Singapore Airlines | Tel:6505 2233 |
| Swissair | Tel:6512 3555 | Thai International | Tel:6460 8899 |
| United Airlines | Tel:6463 1111 | Uzbekistan Airways | Tel: 6500 6442 |