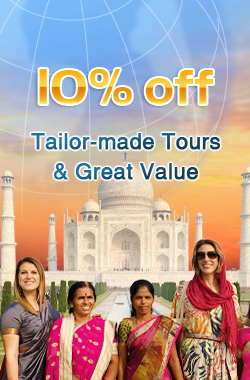 Best Beijing Food
Being a capital city with a long history, Beijing has attracted a variety of cooks from different regions throughout the country. They brought cooking methods and the delicious food of their own regions to this city forming a blend which is Beijing Cuisine. Flavored local delicacies, Imperial Court Cuisine, Imperial Official Food and special Muslim vegetable dish cater for various tastes.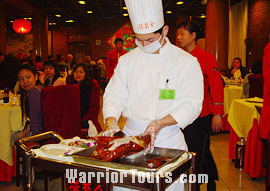 Beijing Roast Duck

Beijing Roast Duck is claimed to be the most delicious food in the city. There are two major schools of roast duck preparation. The better known method is that of Quanjude, a time-honored school which developed in the imperial kitchens of the Qing Dynasty.

After being thoroughly cleaned, the duck is brushed with a special seasoning, the recipe is secret, then roasted in an oven, using fruit tree wood as fuel. The crucial point is that the duck should be turned frequently in the oven and cooking should be correctly timed. The finished duck should have bright and crispy skin with tender meat.

The other school uses a special oven in which no flames come into direct contact with the duck. Bianyifang Restaurant in the Chongwenmen District is preeminent at this technique, with a long history.

The duck is sliced into pieces and served with thin pancakes, a thick and sweet sauce and shallot shreds. Usually a diner puts several pieces of duck slices and shallot shreds onto a pancake and rolls it up. Dip this into the sauce to add flavor, and eat.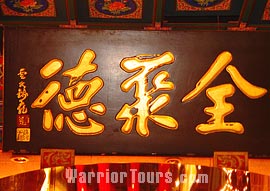 The best place to taste this food is the Quan Ju De Restaurant, which was built in 1846 and claims to be the origin of this food. It is located at No. 23, Qianmen Dajie. The other two branches of the restaurant can be found in Hepingmen and Wangfujing area.

Imperial Court Cuisine

The imperial Court Cuisine refers to Man-Han Banquet (a dinner banquet of Man and Han national food) from the imperial kitchen. It was a royal feast made of a wide collection of precious foodstuffs from rare birds and animals to delicate seafood. The banquet was served with 108 dishes using exquisite gilded tableware.

Two restaurants provide imperial court dishes in the city today. One is the Imperial Court Restaurant in Beihai Park and the other one is in Tingliguan in the Summer Palace.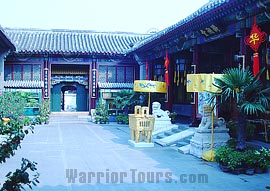 Imperial Official Cuisine

Second to the Imperial Cuisine should be Tan Family Dish, a famous cuisine of an imperial official family. It features contemporary Cantonese style with all kinds of elaborately cooked seafood dishes including abalones, shrimps, shark fins, sea cucumbers, bird's nests and other precious food.

Beijing-style Hotpot (Shuan Yang Rou)
In cold winter, Beijing-style hotpot (to be distinguished from Sichuan or Cantonese hotpots also available in the city) is the best choice for a family or friends' get-together.

The hotpot is a bronze bowl with a chimney in the middle. Thin slices of beef and mutton are served with a variety of vegetables including mushrooms, bean curd, potato pieces, lettuce and others. Each diner is given a small bowl of sauce mixed with sesame sauce, garlic sauce, pepper oil, and vinegar. The diners first dip the meat slices in the boiling water to cook and then dip into the sauce bowl. You can choose whatever you want from a full selection of vegetables and meat offered by waiters.

The Dong Lai Shun Restaurant in Wangfujing Dajie is the king of this dish with a century-old history.