Beihai Park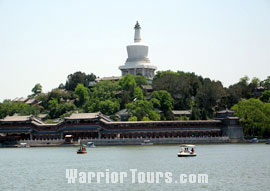 Located in central Beijing, Beihai Park is one of the best-preserved imperial gardens in China. First built in 1179, this garden complex has served as the winter palace for emperors in China's Liao, Jin, Yuan, Ming and Qing dynasties.
With an area of 68 hectares, Beihai Park is composed of an island and a beautiful lake. A Tibetan style White Pagoda built in 1651 on the island is a landmark of the park. There are a wide range of Tibetan Buddhist scripts in the pagoda. A variety of traditional Chinese architectural styles of Buddhist temples, pavilions and towers and courtyard structures can be found on the lake bank. A zigzagged bridge with five elegant pavilions extending from the bank into the lake is a beautiful sight in the park and has the beautiful name of 'Five-Dragon Pavilions'. To the north of the pavilions is Nine-Dragon Wall, one of three famous walls of its kind in China. It was built in 1756 during the Qing Dynasty (1644 - 1911). Nine dragons playing in the clouds are decorated on both sides of the wall.
An imperial court cuisine restaurant housed in an antique building boasts the best imperial court dishes in the city.
Admission Fee:
CNY 5 (Nov. 1 to Mar. 31)
CNY 10 (Apr.1 to Oct. 31)
Opening Hours:
06:00 to 22:00
Recommended
Time for a Visit:
One hour
Electric Bus Route:
5, 101, 103, 107,109, 111, 118, 701, 812, 814,823, 846
Further Reading: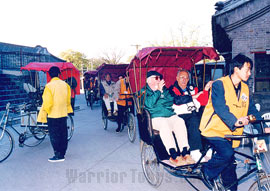 To the north of the Beihai Park lies the old city area of Beijing, with a lot of Hutongs, an ancient form of alleys, and typical residential courtyards of old Beijingers.
For those who are willing to probe the way the Chinese live, a jaunt down the intricate maze of BeIjing's hutongs is essential. Organized tours of Beijing hutongs are available. You will be taken by pedicab (a tricycle cab), which was very popular in the old days to visit the Bell and Drum Towers, Prince Gong's Mansion and even to pay a visit to an ordinary Beijing family in the compound houses.
The name of a hutong implicates its origin, location or history. It is in the gray-tiled deep lanes that families play, travel, buy goods, gossip and connect. In Beijingers' eyes, hutongs means a period of history, a cordial lifestyle and even an "encyclopedia of Beijing".
When a certain name was given and prevailed among people, it exactly became the necessary symbol for intercourses and communication. From the names of hutongs one can discover how Beijingers, in the course of centuries, advanced from vulgarity to refinement.
In numerous hutongs are scattered the residences of famous personages, and these places are repositories. Laoshe, a well-known playwright is just one of them. Laoshe was born in a small lane, in the west part of the city. The memory of his childhood was so dear and impressive that after he'd been away from Beijing for more than 20 years, he still clearly remembered his birthplace, and he made it the backdrop of his novel "the Four Generations Under One Roof".
Many famous operas and dramas are based on the themes of the "hutong life". A visit to hutongs plus a drama by the Beijing People's Art Theatre, such as "Teahouse" or "SmallHutong" in the evening will help you appreciate the fundamental part of Beijing's life.
Read more on
Beijing Hutongs and Courtyards