Myanmar Travel Guide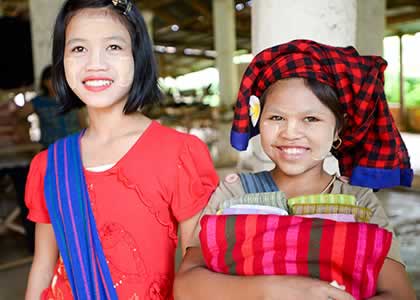 Local people, Myanmar
Basic Facts of Myanmar
Location: west of Indo-China Peninsula, southeast Asia
Area: about 677 thousand sq km (261 thousand sq mi)
Population: about 51.49 million
Language: Burmese
Currency: Kyat (K)
Time Zone: UTC+6:30
Capital: Naypyitaw
Administrative Division: 7 provinces, 7 states and 2 municipalities directly under the central government
Religions and Beliefs: Theravada Buddhism
Tourist attractions in Yangon are mainly located in the north area of downtown, such as Shwedagon Pagoda, Chaukhtatgyi Paya and Karaweik Palace. The Shwedagon Pagoda with world reputation is the one you can't miss, and it is hailed as the three greatest historical remains in South Asia along with Angkor of Cambodia and Borobudur of Indonesia. Besides, a classical hiking route full of European-style architecture may arouse tourists' imagination of Yangon's prosperity during the colonial period. If interested, tourists can row a boat on Inya Lake with the company of professional canoeing athletes.

Mandalay is famous for Mandalay Hill, Mandalay Palace and U Bein's Bridge, which reflects the spirits of Six Harmonies in Buddhism by six pavilions respectively on the head, middle and end of the bridge. It is also called the "lovers' bridge" and attracts lovers to come here and pray for an everlasting relationship.

With the title "city of pagodas", Bagan has Ananda Temple and Shwesandaw Paya.
| | |
| --- | --- |
| Shwedagon Pagoda with Larntern in the Sky | Inle Lake |
Inle Lake is situated in Shan State with clear and blue water. Floating temples, gardens, markets, and thatched cottages are dotted on the lake. Forests of towers with profound history stand on the lakeside. It is not an overestimation to say that Inle Lake is the "Maldives" of Myanmar, which always brings tourists wonderful experiences. Besides, Jumping Cat Monastery is worth visiting.
Best Time to Visit Myanmar
The best time to visit Myanmar is from November to February. The average temperature is 27℃ (81℉) and it's the perfect travel season with cool temperature and little rainfall. The whole country is abundant in sunshine.

From March to May: the average temperature reaches 35℃ (95℉), which is the hottest time in the year, especially in Mandalay and Bagan. It is not sensible to travel in Myanmar in this period.

From July to October: it is the rainy season with an average temperature of 30℃ (86℉). The weather is humid and hot.
As for the arrival, tourists can first get to Yangon, and then transfer to other cities. International flights are available in Yangon International Airport and Mandalay International Airport. Tourists can also choose to enter the country by land routes through China and Thailand.

Taking domestic planes is the quickest and the most comfortable way with over 20 airports scattered around the country and highly developed domestic flights. Tourists can also get to other places from Yangon by train. Dagon Mann, a railway corporation provides foreign tourists with first class (30 U.S dollars per person) and upper class (42 U.S dollars per person) compartments. Another kind of compartment for four passengers with air-conditioner, beds, shower and fridge costs 50 U.S dollars per person. Inland Water Transport offers voyages from Mandalay to Bagan taking about 9 to 14 hours. In addition, taxis, rental cars, pick-up cars, coaches, buses, bicycles, tricycles, carriages and fast ships are all available in the country.
Out of respect for the Buddha, tourists are requested to take off shoes and socks before entering temples. Local people deem crows as sacred birds, and so are oxen, which are thought to be divine. The staple food here is rice and they eat with hands. Men and women should sit in the right position when having meals, that is, men on the right and women on the left.

Burmese people regard head as nobility, so it is rude to touch others' heads. It's a taboo to kick things to people or point at others by feet, which are deemed to be a strong insult. Passing things by the left hand is rude for the left hand is regarded as dirty. Local people are used to avoiding Tuesdays to do things and nine is considered an unlucky number. It is also unfavorable to ask time while going out.

Besides, different ethnic groups hold different customs and taboos.
History
Myanmar is an ancient country with a long history and civilization. Since the country has been unified in 1044, it experienced three feudal dynasties which are Bagan, Toungoo and Konbaung. From 1824 to 1885, Britain waged wars three times to invade the country, and it became one of British provinces in 1886. Myanmar gained its independence in 1948 and set up the Union of Myanmar. In 2005, the government moved its capital from Yangon to Naypyitaw.
Geographical Features
The country is in the shape of a diamond, with an apparent topographical feature, that is, high in the north and low in the south. Mountains surround the country in the north, east and west. The west region lie Naga Hills and Arakan Mountains. In the east, there is the Shan Plateau, in which the highest peak is Hkakabo Razi. Between the west mountains and east plateau covers the Ayeyarwady River Plain with low and flat land.