Myanmar Transportation
How to Travel to Myanmar
Airplanes
Yangon International Airport is where most international flights land. Flights between Myanmar and foreign cities such as Bangkok, Calcutta, Dacca and Kuala Lumpur are available. From the airport, tourists can take a taxi or spend 20 minutes walking to the city center.
Mandalay International Airport is the largest airport in Myanmar and mainly engages in domestic flights and international flights to Kunming and Bangkok. Service facilities including post office, bank, currency exchanger, restaurants and tour reception desks are all available. It takes about a one-hour drive from the airport to the city center.
Land Routes
Most land borders in Myanmar are closed, but tourists can access the country through China and Thailand.
Through China: Tourists can enter through Ruili port in Yunnan Province, and a 28 days' tourist visa for Myanmar should be prepared in advance. It is not allowed to enter the country alone, so tourists should find a travel agency.
Through Thailand: Four options are provided and tourists can access from Maisai to Tachilek, Mesok to Myawaddy, Phunaron to Htee Kee or Ranong to Kawthoung.
Domestic Transportation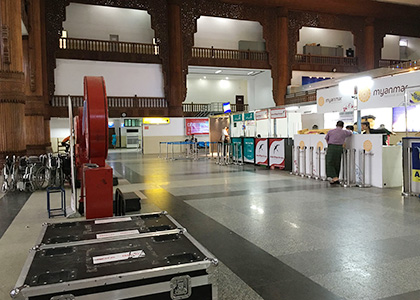 Airport Terminal in Yangon
Airplanes The quickest and the most comfortable way to travel in the country is to take domestic flights, which are available in all directions and Yangon is the aviation hub offering 34 airways to main cities in the country. More than 20 airports are in operation including Yangon International Airport, Mandalay International Airport, Myitkyina Airport and Nyaung U Airport. Tourists need to buy tickets at least one day ahead of departure. Besides, passport and U.S. dollars should be prepared. A lot of flights are in business between the famous four tourist attractions, that is, Yangon, Bagan, Mandalay and Inle Lake.
Trains
Commonly speaking, the condition of trains is poor but with higher price than buses. Some trains provide three types of compartments, that is, ordinary class, upper class and sleeper. Trains run much slower than cars so it is the common case to arrive late, while tourists are able to appreciate the landscape along the railway.
As the busiest railroad, seven trains commute between Yangon and Mandalay every day. The train routes in Yangon form a ring starting from Yangon, passing Insein, Mingaladon and North Okkalap and finally running back to Yangon. A circular trip takes three hours with a charge of 15 Kyats. The train is in business from 6 am to 8 pm and leaves every half an hour.
Coaches
Long distance coaches are a convenient and economical transportation tool in Myanmar. Many high-class coaches with various services have shown up with the development of tourism, such as air-conditioned coaches with 48 seats, luxury coaches with 27 seats and air-conditioned minibuses with 19 seats. Coaches between major attractions including Yangon, Mandalay, Inle Lake, and Bagan are available.
Taxies
Taxis with apparent top lights and red licenses are convenient vehicles in Myanmar. Most local taxis are privately owned without taximeters and engage in charter business. It is sensible to negotiate with drivers in advance.
| | |
| --- | --- |
| Long Distance Coach | Myanmar Taxies |
Rental Cars
It has become a trend to rent cars visiting the country and the price is acceptable with about 30 or 40 U.S. dollars a day. An air-conditioned motor home costs about 50 U.S. dollars a day including a driver because tourists are not allowed to drive in the country.
Pick-up Cars

Pick-up Car, Myanmar
Pick-up cars, similar to Thailand tutu, are privately operated buses and sometimes can be dangerous. Tourists have to endure the crowdedness with local people in the rear box.
Buses
Taking buses is a good chance for tourists to experience the local customs. More than 40 bus routes connect towns in Yangon, but some buses are already in poor condition and very crowded. Several new buses are put into operation in recent years, and is charged in accordance with the distance. If tourists want to go to other cities, the bus station located in the southwest of Yangon International Airport, the crossing between Pyan Lan and Station Rd. is available. Tourists should recognize the bus numbers carefully due to they are marked by Myanmar numbers.
Motorcycles
It is forbidden for tourists to ride motorcycles in Yangon, while it is allowed in Mandalay.
Tricycles
Tricycles can be a nice tool when the road condition is favorable. It is regulated by government that tricycles are forbidden from 0am to 10am and tricycles are not allowed to run at the main streets. Tourists had better agree upon the price with the carter in advance.
Bicycles
Travel agencies, hotels and tourist spots all offer the service of renting bicycles and the rental cost is about 1000 to 2000 Kyats a day.
Horse Carriages
Traveling by horse carriages is the most romantic and the most convenient way in Bagan, which makes tourists undergo the life style thousands of years ago. The carter can help tourists arrange an itinerary covering all tourist attractions that they expect to see. The charge of the horse carriage is 6 U.S. dollars a day with the capacity of four persons. It is actually a cost-efficient way to split the expenditure with others.
| | |
| --- | --- |
| Horse Carriages , Myanmar | Ships in Myanmar |
Ships
Ayeyarwady River is the main navigable line and Yangon, Mawlamyaing and Bassein are the main harbors. Many tourists may choose the water trip between Bagan and Mandalay to appreciate the beauty of Ayeyarwady River and fast ships commute between the two cities take 9 hours. In addition, slow ships take about 14 or 17 hours.
In addition to all those transportation tools mentioned above, battery cars are also commonly seen in Myanmar and can be counted as a thrifty way.
Further Reading:
Things to Do in Myanmar
Useful Travel Tips