Mogao Caves & White Horse Dagoba

Mogao Caves & White Horse Dagoba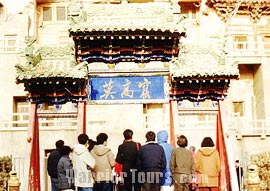 Mogao Caves

The Mogao Caves, a renowned Buddhist art treasure, are situated about 25 kilometers (about 16 miles) southeast of Dunhuang City on the eastern face of Echoing-Sand Mountain. Long zigzag plank roads built along the cliffs connect the Mogao Caves. The stateliness and mystery of the murals, the painted sculptures and the elegant Buddha statues in these caves leave tourists breathless.


The Mogao Caves were started in 366 and during the next 1,600 years, many dynasties created additional caves here. There are about 492 preserved caves from different dynasties; these constitute the most complete and massive art caves in the world. Mogao Caves are a three-dimensional combination of architecture, sculptures and paintings. Artists in ancient times combined the traditional art of Han and the western nationalities of China with the exotic art style from Middle Asia and developed a Chinese Buddhist art with dense Dunhuang features. These caves are called Buddhist grottoes, but the subjects in the grottoes are not only about Buddhism. Tourists will discover depictions of ancient lifestyles, folk-customs, scenes of economies and cultures intermingling at various times, creating a study of ancient China. In 1991, UNESSCO listed the Mogao Caves as part of World Heritage.

Tourists can take private buses or taxi from downtown Dunhuang to Mogao Grottoes.


Tips for visiting Mogao Caves:
Taking photos inside the caves is forbidden. As there is not enough natural light inside the caves, bring a flashlight. We also suggest that tourists study the history ahead of time to better understand the Mogao Caves murals.
Admission Fee

CNY 160 (May 1 to Oct. 31)

 CNY 80 (Nov.1 to Apr. 30)

Opening Hours

08:10 to 18:00

Recommended Time for a Visit

Half a day
Note: The Mogao Caves only receive 6,000 visitors every day, so it is suggested to book a ticket beforehand, particularly during the high season between May 1st – October 31st.

White Horse Dagoba (Bai Ma Ta)

White Horse Dagoba is situated south of Dunhuang Ancient City, two kilometers (about 1.2 miles) from downtown Dunhuang. It is said that the dagoba is the burial place of a white horse. On his way to the East to introduce Buddhism, Kumarajiva, a master of translating sutras into Chinese, came to Dunhuang. While here, his horse died. It was buried here and people established the dagoba to remember Kumarajiva and his horse. The dagoba, presenting the Lama architectural style of the Ming Dynasty (1368-1644), is nine-storied on an octagonal base. Engraved stones and a piece of wood on the second floor bear carvings telling how the dagoba which tourists see now has been repeatedly restored. When there is a breeze, the dagoba bells ring out, bringing thoughts of ancient times.

Tourists can take a taxi or rent a bicycle to the dagoba.

Admission Fee: CNY 15
Recommended Time for a Visit: 45 minutes