Lugu Lake & Jade Spring Park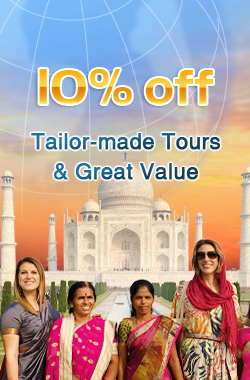 Lugu Lake & Jade Spring Park

Lugu Lake

Lugu Lake is just like an eye-catching pearl in the mountain ranges. Its bluish green waves and charming surroundings make it really spectacular. Therefore it has been given some other wonderful names, such as Pear on Altiplano and the First Wonderland in the East. The plain folkway here and the handsome sceneries here are all full of mysterious color.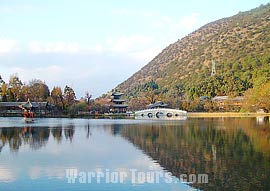 The altitude of Lugu Lake is about 2,680 meters (about 8,793 feet); the entire area is more than 50 square kilometers (about 12,355 acres); the average depth of the lake water is 45 meters (about 148 feet); the deepest place of the lake has a depth of 93 meters (305 feet). The water is so clear that you can even see the bottom of the lake 12 meters (39 feet) from the surface. Lugu Lake is one of the deepest lakes in China and it is also one of the rare unpolluted lakes in the world.

Lugu Lake has rich forest resources, and thus extremely fresh air. On sunny days, the blue sky, the white clouds and the water become a whole which is too beautiful to be true.

Not only is the water in Lugu Lake crystal clear, but the islands around it are also amazing. Lugu Lake is in the middle of the mountains. The charm of Mosuo Girl, the elegance of cockboats and the beautiful melody of fishing songs are considered the 'three wonders of Lugu Lake'.


Admission Fee: CNY 170 (including boating on the lake, visiting a local family and campfire party)
Recommended Time for a Visit: One day (we suggest you stay 2 nights there, you can visit the local family, enjoy a fire party)

Jade Spring Park (Heilong Tan Park)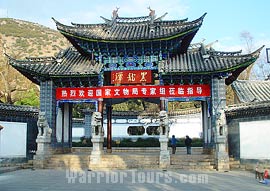 Jade Spring Park is another name for Heilong Tan Park. Located at the foot of Elephant Mountain, it was originally built in 1737. There is a spring under a chestnut tree at the foot of Elephant Mountain. It flows day and night and forms a big pond with a total area of 40,000 square meters (about 10 acres). The spring water is as clear as jade. Meanwhile the purely white, edible seaweed flowers are abloom; the lovely fish swim in the water happily; the straight trees grow vigorously; and pavilions and cabins dot the beautiful sceneries. Everything is wonderful.

The water in the pond is warm in cold winter, cool in hot summer. It is very good for your skin. Above the surface of the pond there is always white vapor flowing in winter, which makes you feel like you are in the warmth of spring sunshine.

Standing on the Suocui Bridge and looking into the north, you will see the Jade Dragon Snow Mountain floating on a piece of white cloud. The blue sky, the clouds, the snow mountain, and the old trees all have their reflections in the pond which is like a mirror. The whole view is really amazing.
| | |
| --- | --- |
| Admission Fee: | CNY 60 |
| Route: | Walking 15 minutes from the Old Town of Lijiang or taking a taxi |