Three Gorges Museum & People's Assembly Hall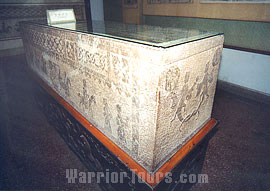 China Three Gorges Museum

Located at No. 72 Pipashan Zhengjie in Shizhong District, The Chongqing Museum is a social history museum with a large collection of exhibits ranging from artifacts from China's Paleolithic Age (which began around 3,000,000 BC) to documentaries on twentieth century revolutionary history.

The four-story museum is estimated to house over 100,000 pieces including stoneware from the Paleolithic Age; relics of the Ba Shu Culture; exquisite tomb carvings from the Han dynasty (206B.C. - 220A.D); porcelain, painting, and calligraphy works from past dynasties; and fascinating ethnic artwork from the Qiang, Tibetan, Yi, Miao and Tujia nationalities in the southwestern part of China. Two ship-coffins exhibited in the museum show the unique burial rites of the ancient Ba people, who inhabited the Three Gorges region in China's southwest Sichuan Province. Inside the coffins, beside the bodies, lie a variety of burial items ranging from bronze weapons to carved potteries.

Note: Guide service is available in Three Gorges Museum and it costs CNY100-200 for a group for 60-90 minutes. Audio guide can be rented with passport. The fare is CNY10 per person and CNY300 refundable deposit is required.
| | |
| --- | --- |
| Admission Fee: | Free |
| Bus Routes: | 105,117,122,181,215,262,421,862,868 |

People's Assembly Hall

Located at Xuetianwan, Renmin Lu, the People's Assembly Hall is one of the landmarks of the city. The lobby of the hall is decorated in a delicate traditional Chinese architecture to look like the Hall of Prayer for Good Harvest in Temple of Heaven. Three five-storied buildings surround the lobby which can hold 4,200 people.

In front of the People's Assembly Hall is the granite-paved Renmin Square with verdant lawns and music fountains. It is a popular leisure place for people to spend their evenings and weekends.

Admission Fee: CNY 5
Opening Hours: 08:10 to 17:50
Recommended Time for a Visit: Half an hour
Bus Route: 103,104,105,111,112,122,215
Mini Bus Route: 181,503

Other Things to Do in Chongqing
Chongqing is also a modern metropolis. There are hundreds of shops, department stores, commercial streets, shopping malls, supermarkets and squares in downtown Chongqing, where visitors can find everything they desire. Theaters, cinemas, KTV, bars and night clubs are best places to enjoy the nightlife, whilst Happy Valley, Safari Park, Ocean World and Gymnasium are suitable for family recreation. Lingering in the Northern Hot Spring Park and Southern Hot Spring Park to enjoy the beautiful scenery, and then take a bath can thoroughly relax body. Teahouses scattered in the city are the best places to have a leisurely chat and enjoy the famous Sichuan Opera. When the night comes, find a street vendor and taste the world renowned Chongqing Hotpot. The hot and spicy flavor should never be missed!