Top 10 Places to Visit in Delhi in One Day
There are many famous scenic spots in Delhi, so it is definitely fulfilling to plan to visit Delhi. If you plan well, you can visit 2-3 attractions in one day. You can choose from the below top 10 places to visit in Delhi in one day.

Ticket Fare: 600 rupees

Opening Time: Sunrise – sunset; Closed on Monday

How much time to spend: 1-3 hours
Red Fort is a typical Mughal-style red sandstone building built by Shah Jahan, the fifth-generation monarch of the Mughal dynasty. If you are listing top 10 places to visit in Delhi in one day, it should not be missed. The basic structure is well preserved, and it can also reveal its glorious past. Sunset in the evening is the best time to take photos there. In the evening, there is a sound and light show about Red Fort's history with an English commentary.
| | |
| --- | --- |
| Red Fort | Unique Architecture in Red Fort |

Ticket Fare: Free

Opening Time: 07:30-12:00; 13:30-18:30

How much time to spend: 1-3 hours
Jama Mosque in New Delhi is the largest mosque in India and one of the three largest mosques in the world. It was ordered by Shah Jahan, who advocated the Taj Mahal. Rituals are held here on Fridays and Festivals. When you climb the minaret, you can overlook old Delhi and also see the Qutb Minar in the distance.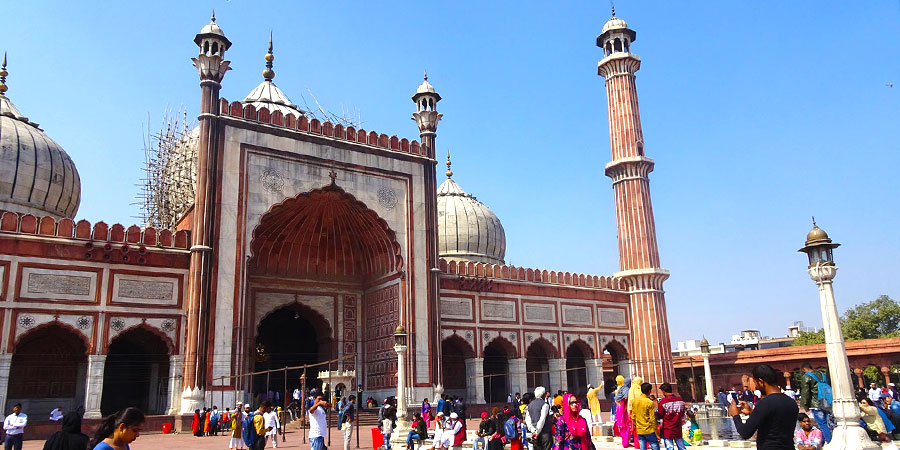 The Largest Mosque in India - Jama Masjid
Read More: 8 Most Famous Churches in Delhi

Ticket Fare: 250 rupees; Free on Friday

Opening Time: Sunrise to sunset

How much time to spend: about 2 hours
Humayun's Tomb is a typical Mughal architecture, and the source inspiration for Taj Mahal, hence listed as one of top 10 places to visit in Delhi in one day. The whole building is solemn and magnificent, and it is a masterpiece in the architectural history of India and even the world. Next to the tomb is a small museum showing photos of the tomb, describing the evolution and development of Mughal mausoleum architecture and you can get some tourist souvenirs.
| | |
| --- | --- |
| Solemn and Magnificent Humayun Tomb | Get Closer to the Delicate Building in the Tomb |
4. Day Tour to Taj Mahal from Delhi

Ticket Fare: 750 rupees/person; Children under 15 years of age are exempt from tickets; Fares may vary depending on the visit time.

Opening Time: 30 minutes before sunrise - about 30 minutes before sunset

How much time to spend: 1 day
When you are choose top 10 places to visit in Delhi in one day, The Taj Mahal not too far away should be included. It was built by Shah Jahan in memory of his late wife Mumtaz Mahal. Taj Mahal is a representative work of Islamic architecture, integrating Asian and Arab Islamic styles and Indian local styles. The planning of Taj Mahal Park has a symmetrical aesthetic feeling and is a typical Mughal style. The huge Taj Mahal takes the sky as its background and shows different scenery at different times of the day and in different natural light, which fully demonstrates the mysterious beauty of India.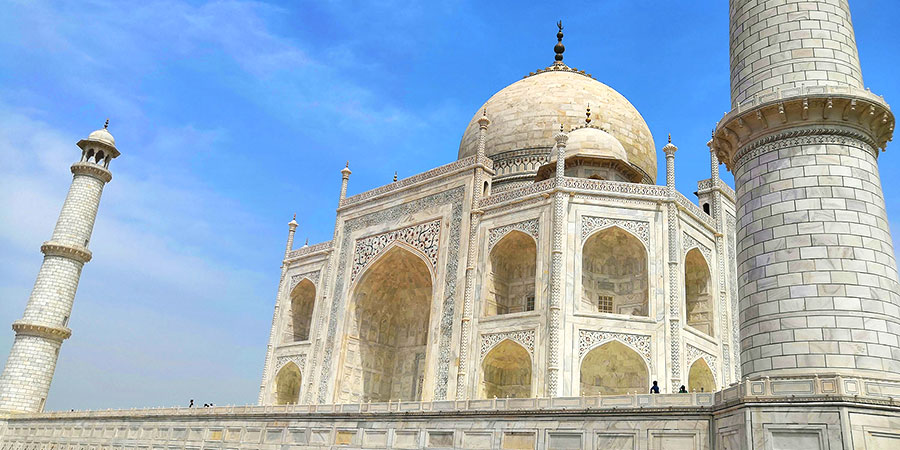 White Marble Building - Taj Mahal
See More: How to Travel from Delhi to Taj Mahal

Ticket Fare: Free

Opening Time: Raj Ghat: 05:30-19:00 (Monday-Sunday); 09:30-17:30 (Tuesday-Saturday)

How much time to spend: 1-3 hours visiting Raj Ghat; 1-3 hours visiting National Gandhi Museum
Raj Ghat was the cremation site after the assassination of Mahatma Gandhi, the father of India. The ever-burning lamp on the tomb is a symbol of India's struggle for national independence. However, this is only a symbolic tomb, Gandhi was not buried here. A part of his ashes were scattered into the sea according to Hindu customs. On weekdays, many Indian students come here to study patriotic education. On holidays, countless people come from all directions to mourn Gandhi. There is a prayer in the cemetery every Friday at 17:30.
National Gandhi Museum is located 300m southwest of Raj Ghat and has a large collection of letters, photos and other documents. It is a good place to learn about Gandhi's life story. The memorial hall expressed Gandhi's thoughts in spatial form. In the glass cabinet in the middle of the room, Gandhi's deathbed clothes in coarse white cloth were on display, and the remaining blood on it was shocked.
| | |
| --- | --- |
| People Come From all Directions to Mourn Gandhi | Ever-burning Lamp on the Tomb |

Ticket Fare: 500 rupees

Opening Time: All day

How much time to spend: 1-3 hours
The Qutab is the world's tallest brick tower built by India's first Muslim king to celebrate the victory over local Hindus. Built of red sandstone and marble, it is 73 meters high and has a history of nearly 1,000 years. It is a typical Indian-Islamic architecture. It is included in top 10 places to visit in Delhi in one day not only for its unique architecture and religious atmosphere, but also for its festival atmosphere. Every year from November to December, Gutenberg Cultural Festival will be held here. You will see live music and dance performances by modern and classical Indian artists.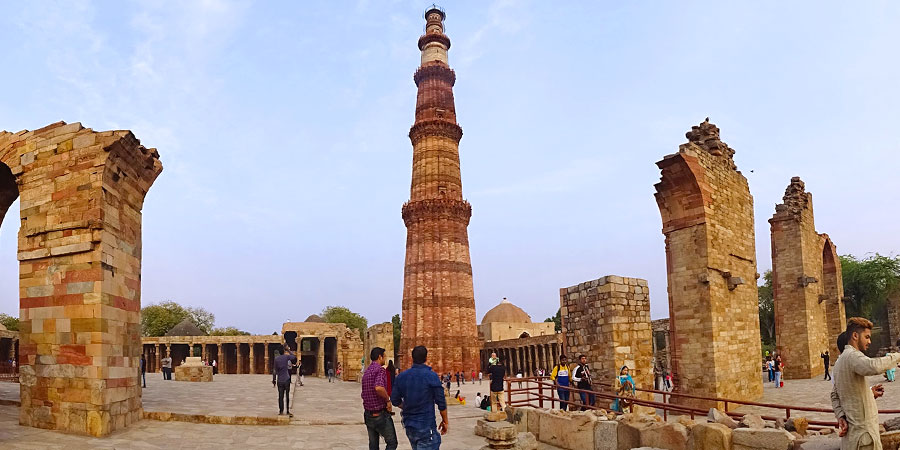 The world's Tallest Brick Tower - Qutub Minar

Ticket Fare: Free

Opening Time: October-March: 9: 00-18: 00; April-September 9:00-19:00, closed on Monday

How much time to spend: 1-3 hours
Lotus Temple is a famous landmark building in Delhi. It looks like a blooming lotus flower, symbolizing the mutual tolerance and coexistence of different religions. Visitors can enjoy the fountain at dusk. The gardens and pools around Lotus Temple are free and people can rest there. At night, Lotus Temple looks especially beautiful under the light.
| | |
| --- | --- |
| Lotus Temple | Great Architectural Design of the Lotus Temple |

Ticket Fare: Tickets are free; 170 rupees per adult for exhibition; 30 rupees per adult for watching Music Fountain

Opening Time: Admission starts at 09: 30 and ticket checking stops at 18: 30. Tuesday-Sunday

How much time to spend: 1-3 hours
Founded in 2005, Akshardham Temple is a contemporary scenic spot with both entertainment and religion. The religious complex is very large and has been listed in Guinness World Records. There are more than 20,000 statues and figures in it. Visitors can take a boat tour of Indian history 10,000 years ago, go to the food court to enjoy snacks, watch image maximum and enjoy the music fountain.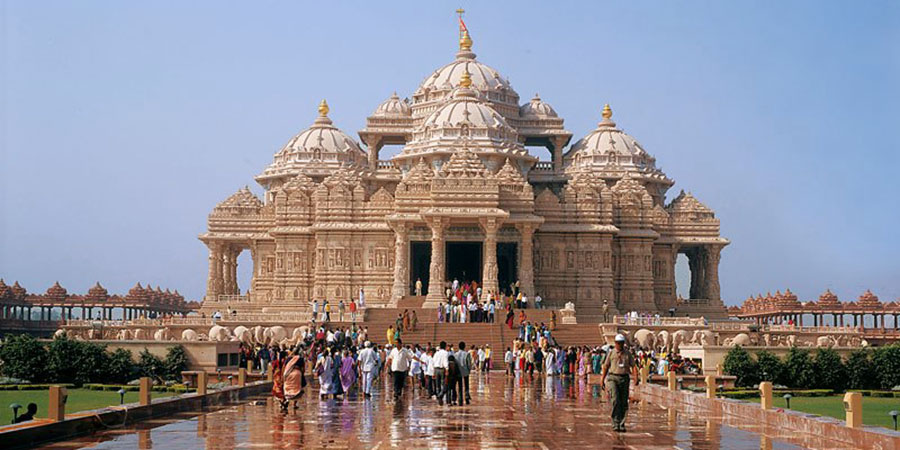 Guinness World Record - Akshardham Temple

Ticket Fare: Free

Opening Time: 10:00-19:00 (Monday-Saturday)

How much time to spend: At least an hour
Chandni Chowk is a charming market street in Delhi with various kinds of goods. It is the only one among top 10 places to visit in Delhi in one day where one can find cheap Indian ornaments and knitwear. The greatest pleasure of visiting Chandni Chowk is seeing all kinds of local people and their interesting lifestyle.

Ticket Fare: Free

Opening Time: 10:00/11:00-21:00/22:00

How much time to spend: At least an hour
Connaught Place is the center of Delhi, a commercial, tourist and transportation center. It is a large circular square, with all kinds of brand shops, specialty restaurants, hotels, cinemas, banks and pharmacies located here. There is a small park in the center of the square for tired pedestrians to have a rest.