Egypt Weather in June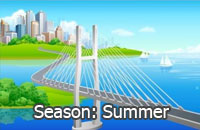 Egypt weather in June is pretty hot. The highest temperature reaches up to 36℃ (96.8℉) in the day time. Because of the large temperature difference, the temperature drops to 23℃ (73.4℉) at night. There is little rain, so the Egypt climate in June is very dry.

The coldest cities in Egypt in June:
Alexandria: 19℃ (66.2℉); El Arish: 18℃ (64.4℉)

The hottest cities in Egypt in June:
Qena: 38℃ (100.4℉); Aswan: 41℃ (105.8℉)
Averages for Egypt Weather in June






June Temperatures in Egypt
During the day, it is recommended to wear breathable clothes made of light cotton fabrics, such as short shirts, shorts, skirts, etc. Night in Egypt is not as hot as daytime and the temperature in June nights is very pleasant; so it is OK to wear shirts, dresses, and light pants. The ultraviolet ray is very strong in June, tourists must protect themselves from sunburn. So goods like sunglasses, sunhats and sunscreen are also necessary.




June Travel Guide – Where to Go & Tips
Tourism Rate:




June is not the tourism-peak season in Egypt, so there are not crowds in scenic spots. Tourists can have a leisurely trip in spite of the hot weather. Aswan is a good place to visit. It is a city in southern Egypt, located on the eastern bank of the Nile River. It is a famous ancient city, tourist destination and trade center. Aswan Dam, the highest dam in the world, must be the most famous attraction in the city situated on the Nile. Another important tourist spot in Aswan is Abu Simbel Temple. This large grotto temple has a history of 3,300 years and is the best protected relic of the pharaoh era of the new empire.

The Red Sea, reputed as one of the world's three great diving shrines, is also a good place to travel in June. Not only the seawater is very clear and blue, but also there are various creatures under the water. The temperature of the sea water is mild in June, very suitable for diving. Another unique feature of the Red Sea is the combination scenery of sea and desert.
June Weather of Major Egypt Cities
June


Temperature

Sunrise / Sunset
Humidity
(%)
High
Low
Alexandria

29°C/ 84.2°F

21°C / 69.8°F
05:10/ 19:05
69

Arish

8°C / 46°F

-1°C / 30°F
07:20/ 18:07
84
Aswan

3°C / 37°F

9°C / 48°F
07:56/ 18:38
79
Asyut

11°C / 52°F

6°C / 43°F
07:45/ 18:30
83
Benha

18°C / 64°F

10°C / 50°F
07:08/ 18:13
72
Beni Suef

12°C / 54°F

5°C / 41°F
07:23/ 18:22
73
Cairo


2°C / 36°F
07:41/ 18:34
79
Faiyum

8°C / 46°F

1°C / 34°F
06:51/ 17:35
75
Giza

-13°C / 9°F

-24°C / -11°F
06:58/ 16:36
72
Hurghada
-5°C / 23°F

-17°C / 1°F
07:44/ 17:48
57
Ismailia

19°C / 66°F

14°C / 57°F

07:03/ 18:11
74
Kharga Oasis

1°C / 34°F

-6°C / 21°F
06:56/ 17:43
65
Luxor

41°C / 105.8°F



25°C / 77°F



07:03/ 18:11

59